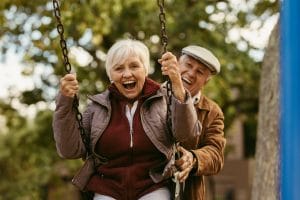 If you need to replace an entire row of teeth but feel removable dentures will be uncomfortable, or if you are already growing dissatisfied with your removable dental prosthetic, your El Paso, TX dentist can help! At our practice, we are prepared to talk with you about the benefits of using All-On-4 implant dentures to give you a permanent restoration for a row of teeth. With as few as four dental implants, it is possible to keep a full denture securely in its position. With the support of these posts, you can find that your appliance feels more comfortable, and that it offers more help when you bite and chew food. Over time, the implants also have the ability to support your well-being by stimulating your jawbone and protecting it from deterioration.
All-On-4 Implant Dentures Can Offer Exciting Benefits
The loss of even one tooth is difficult enough, but losing a full row can have serious consequences. Your diet can be limited to soft, easily broken down foods only, and you can find that your face begins to take on a "sunken" look as your jawbone loses mass. With All-On-4 dentures to replace your lost teeth, you can discover that biting and chewing are more comfortable, and that you can return to eating foods that you had to give up. The act of biting and chewing with your restoration will cause the implants to stimulate surrounding bone mass, which sends signals to deliver nutrients to the tissues and prevent deterioration from occurring.
Planning The Placement Of A Fixed Denture
In order to successfully restore your smile with an implant-held denture, your dentist will closely evaluate your jaw to identify the right placement of posts. This initial review is also important because it allows us to look for any signs of oral health trouble that must be addressed. Once the review is complete, we can form a plan to strategically set implants in position to hold a custom denture.
Replacing A Removable Denture With An Implant-Held Appliance
Have you already restored your smile with a removable denture, but wish your appliance had more support? During a visit, you can talk about the switch from this restoration to one held by dental implants. Making this change can affect your confident, your diet, and the health of your jaw. During follow-up dental exams after you received your new prosthetic, we can check on its condition as well as your overall dental well-being.
Discuss All-On-4 Dentures With Your El Paso, TX Dentist!
Our El Paso, TX dentist's office is prepared to help patients who wish to learn more about All-On-4 implant dentures. If you wish to find out more, please contact your El Paso, TX, dentists by calling 915-859-7000.