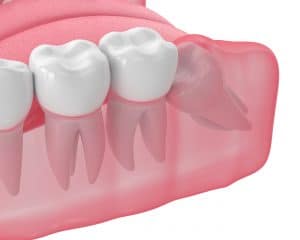 When we enter our late teens and early 20s, this means our smile undergoes some serious changes, as up to four wisdom teeth could erupt. For some people, this eruption could soon mean painful impaction. In order to avoid impacted wisdom teeth, your El Paso, TX, dentists may recommend a safe and comfortable tooth extraction.
The Dangers of Wisdom Tooth Impaction
Over the millennia, our mouths have evolved to comfortably hold 28 teeth in place, but the arrival of the third molars could up this number to 32. The lack of room may mean the new teeth only partially erupt, known as an impaction. This issue leads to serious discomfort, damaged teeth, dental infection, and an increased risk of dental misalignment. The overall health and appearance of your smile changes quickly. However, to address the issue and prevent these complications, our team may suggest completely removing them prior to eruption.
Extracting Your Teeth
Before we extract your teeth, we will administer sedation and a local anesthetic to ensure you feel comfortable throughout the procedure. Next, we open the gums above the third molars so we can access and remove them with forceps. Next, we suture the area closed. Along with preventing painful impactions, we also perform extractions to remove severely damaged teeth, take out infected teeth before an infection can spread, and to address teeth loosened by advanced gum disease. For some people with severe misalignment, we may remove a tooth to make room to better reposition the smile.
What Happens Next?
Following the procedure, a friend or family member will bring you home, as the sedation takes time to wear office completely. For the first day or two, you should enjoy mainly soft foods, avoid using a straw, and be sure to take any prescribed medication as instructed. Be sure not to prod the extraction site with your tongue, too! During a follow-up visit, we will remove the sutures and make sure everything is healing as it should. While wisdom teeth won't need to be replaced if you have a tooth removed due to damage or infection, we could address the gap in your smile with dental implants, bridges, or implant-secured bridges. If you have any questions about this process, or about how we replace missing teeth, then please contact our team today. Our office is open, and we're ready to see you!
TALK TO SUNNY SMILES IN EL PASO, TX ABOUT DENTAL EXTRACTION
At Sunny Smiles in El Paso, TX, our team is here to help your smile stay free of wisdom tooth complications. To learn more about treating wisdom teeth, then contact your El Paso, TX, dentists at Sunny Smiles on Dyer Street by calling 915-859-7000.