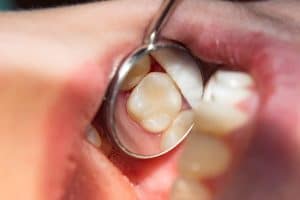 Just because you have a cavity, doesn't mean you have to undergo treatment with a metal restoration. Instead, your El Paso, TX, dentists are ready to help you enjoy lifelike smile repair with a biocompatible dental filling made from composite resin. In today's blog, we're looking at how we treat cavities with a lifelike restoration.
The Dangers of a Cavity
Tooth decay impacts people of all ages, from babies to adults, and unless treated, threatens to cause an infection that could lead to tooth loss and severe discomfort. A cavity forms when bacteria reaches the inner dentin, the structure making up most of the tooth that is usually protected by enamel. The outer enamel is strong, but poor oral hygiene and/or injury to the tooth could compromise the enamel and expose the dentin to bacteria, allowing cavities to form. If you attend routine checkups and cleanings, then we can identify the issue in the early stages, otherwise you may not know you need treatment until you experience tooth sensitivity or a toothache.
The Benefits of a Filling
The restoration halts the decay and prevents the onset of an infection or an abscess. We start by examining the smile thoroughly to identify the cause and extent of the cavity. Next, we remove the decay from the tooth and clean it thoroughly. We apply the filling material in several layers, and then shape the tooth as we cure this material under a light. Finally, we polish the tooth for a more lifelike appearance. The entire process only takes one visit! We recommend this for children too, as an untreated cavity in a baby tooth means the tooth could become infected and fall out prematurely, leading to an increased risk of dental misalignment.
Composite Resin Restorations
Instead of metal, we often use composite resin for kids and adults in need of treatment. This material is a unique blend of glass and acrylic that can be shaded to match the color of surrounding tooth structure. If you have more substantial cases of tooth decay, then we may instead create a crown, also using lifelike materials, to return your tooth to optimal health function, and beauty. If you have any questions about treating tooth decay, or if you would like to schedule a checkup and cleaning for you and your family, then please contact our team today.
TALK TO SUNNY SMILES IN EL PASO, TX ABOUT COSMETIC RESTORATIONS
At Sunny Smiles in El Paso, TX, we want to provide natural-looking and long-lasting solutions for minor and advanced cases of tooth decay. To learn more about lifelike smile repair, then contact your El Paso, TX, dentists at Sunny Smiles on Dyer Street by calling 915-859-7000.