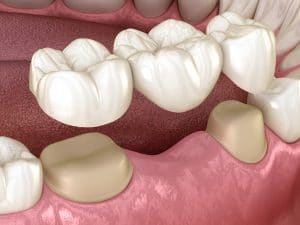 When we lose one or more of our natural teeth, this could lead to problems with our smile's appearance, as well as overall function and health. In order to address tooth loss, whether minor or severe, we may recommend a dental prosthetic. In today's blog, your El Paso, TX, dentists will look at how we create custom-made bridges and dentures.
The Dangers of Missing Teeth
Losing our teeth could impact our appearance, leading to embarrassment for some and even causing people to avoid social interactions. In addition, the lack of natural teeth could make eating difficult and even lead to problems speaking clearly. The gaps in your smile could cause nearby teeth to drift from position. The resulting misalignment could increase the risk of tooth decay and gum disease, while the stress on your jaw joints could lead to higher risks of TMJ disorder and bruxism (chronic teeth grinding). Don't ignore the loss of even a single tooth, instead talk to our team.
Dental Bridges
For people with between one and three lost teeth in a row, our team may discuss the creation and placement of a bridge. The dental bridge consists of the new teeth and crowns on either side. We then place these crowns onto the natural teeth on each side of the gap, which secures the new ones in place. We also offer an option in which we secure them with dental implants instead of crowns. The bridge helps prevent the complications of tooth loss and can last for several years!
Full and Partial Dentures
Dentures address more severe cases of tooth loss. If you have gaps spread out across your smile, but not enough to warrant a full set of dentures, then we may suggest a partial. The partial contains new teeth set in an acrylic base designed to look like gum tissues. The metal clasps in the prosthetic will attach to the remaining teeth and then secure the new ones. For total tooth loss, we can create a full set of teeth in an acrylic base, and suction will hold the new smile in place. These options tend to last about ten years, requiring replacement as the jaw ridge changes shape over time. If you have any questions about the dangers of tooth loss, or about how we design and create prosthetics that look natural and offer durable and dependable tooth replacement, then contact our team today!
SUNNY SMILES IN EL PASO PROVIDES PROSTHETIC DENTISTRY
At Sunny Smiles in El Paso, TX, we want to help you enjoy a complete and functional smile once again with prosthetic dentistry. For more information on replacing one or more missing teeth, then contact our N. Zaragoza dental practice by calling 915-849-9000.