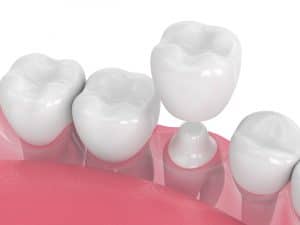 When a tooth becomes damaged, or if a serious cavity or infection develops, then you need a restoration. Your El Paso, TX, dentists may cap a tooth with a custom-made dental crown to repair damage and prevent worsening discomfort. When should you contact us for a crown? How do we craft and place one?
Common Emergency Concerns
What is an example of a dental emergency that may benefit from the placement of a dental crown? Well, a chipped, cracked, or broken tooth may need a restoration to prevent the onset of cavities or infection, as sensitive inner structure could be exposed to bacteria. If you have an advanced cases of tooth decay, of an infected tooth, then a filling may not be enough and instead, we may opt for a more substantial restoration. Outside of emergency dental care, our team has also used them to correct issues with a tooth's shape and color, and to aid in tooth replacement by securing a dental bridge or completing a single tooth dental implant.
Creating and Placing a Restoration
If you end up with an aching or damaged tooth, then rinse with warm water and take a pain reliever. Use a washcloth or gauze to control any bleeding, and place a cold compress or ice pack to the side of the face to stem swelling. When you arrive, we will thoroughly clean the tooth, remove any decay, and then remove structure from the outside. After we take a series of impressions and measurements, we will design the restoration and begin the fabrication process. The restoration will be custom-made for your smile, and we often use materials like ceramic, which can be shaded to look natural and blend with your smile. When complete, we place them with a powerful bonding agent. The entire process takes as little as one to two visits.
Protecting Your Health and Safety
We share your concerns about going outside during this time, which is why we're following strict health and safety measures to protect our patients and team members. Along with wearing gloves and masks, we're also cleaning and disinfecting commonly touched surfaces throughout the office in between each visit. We will also schedule visits in a way that ensures you don't share the waiting room with other people. If you have any questions about how we repair a tooth, or about the steps we take to maintain optimal health and safety, then contact our team today.
TALK TO SUNNY SMILES IN EL PASO, TX ABOUT DENTAL CROWNS
At Sunny Smiles in El Paso, TX, we can use emergency care to repair damage or infection. To learn more about repairing smiles, then contact your El Paso, TX, dentists at Sunny Smiles on Dyer Street by calling 915-859-7000.