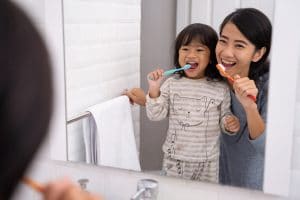 Now that you and your loved ones are spending time indoors and avoiding large gatherings, you may find yourself slipping on your normal daily routines. In today's blog, your El Paso, TX, dentists want to talk about better home habits to protect your oral health and prevent the onset of serious concerns.
Kids Need Routine Care Too!
Remember that children benefit just as much as adults from daily dental hygiene. After all, they're just as likely to develop cavities, and older kids could become susceptible to gingivitis as well. Make sure you have an age-appropriate toothbrush for your child, and remember that toddlers and older kids need fluoride toothpaste to help strength outer enamel. You can often find free apps and podcasts to help make the process fun and walk them through proper brushing and flossing routines.
Brushing and Flossing
People of all ages should start their day by brushing their teeth for about two minutes, which ensures you remove food particles from the surfaces of your teeth. You should do the same before bed each night as well. We also urge people to use a toothpaste with fluoride, to help protect the outer enamel. You need to do the same before going to bed each night as well. Every night, make time to floss as well. As soon as kids have teeth side-by-side, they need to join adults in regularly flossing. For little ones, a pick may be easier to use. Be sure you move the tape or pick up and down each side of every tooth, dipping below the gum line when you do. These steps help limit the risk of cavities and gum disease while you're sheltering in place.
Healthy Snack Choices
What you eat also impacts your oral health. We suggest cutting on sugary candies or sweets, and as well as chips and other items high in starch. Try to consume fewer sugary beverages too, such as sodas, energy drinks, or sports drinks. By doing so, you don't leave behind particles of sugar and starch for bacteria to break down. This then limits plaque buildup and protects the teeth from the onset of issues like tooth decay or even periodontal disease. Instead, try to pick up more fruits and vegetables, yogurts and cheeses, nuts and whole grain crackers, or maybe even sugar-free gum.
TALK TO SUNNY SMILES IN EL PASO, TX ABOUT PREVENTIVE HOMECARE
At Sunny Smiles in El Paso, TX, we understand that homecare is essential for keeping smiles healthy and functional. To learn more about protecting your family from cavities and gum disease, then contact your El Paso, TX, dentists at Sunny Smiles on Dyer Street by calling 915-859-7000.