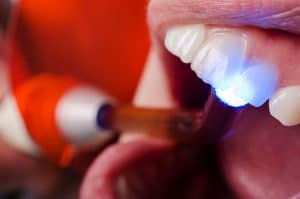 When you start to experience pain in one or more of your teeth, this could mean the presence of tooth decay. Unless treated, this concern could soon lead to an infected tooth and more severe discomfort! If you have pain in your smile, then you El Paso, TX, dentists could identify the cause, and potentially address the issue in one visit.
The Warning Signs of Tooth Decay
How do you know if you have a cavity? Well, the earliest warning signs may be tooth sensitivity to hot or cold foods and drinks. Later, you maybe experience worsening discomfort, including toothaches that don't pass after a few hours. If this occurs, call our office to talk to our team. You may need treatment to avoid an infection. A cavity forms when the outer layer of tooth enamel is no longer able to protect the teeth. Weakened by plaque buildup or injury, bacteria now bypasses this layer and reaches the dentin below, causing a cavity to form.
The Importance of Treatment
Treatment is important because a cavity continues to grow and spread over time. Unless addressed, this could reach the inner pulp and allow an infection or abscess to form. You then experience more serious discomfort, including pain biting down or chewing, headaches, fever, swelling near the tooth, or a discharge from the tooth. If it reaches a more advanced state, then we may need to remove the tooth completely to halt the spread of infection to other teeth. Remember, to help avoid these issues, you should brush and floss your teeth daily, and try to cut back on sugary foods and drinks.
The Filling Process
To treat the tooth, we will remove the decay clean the tooth, and apply a metal-free and lifelike composite resin. We then cure the material and polish the tooth. During the visit, we will maintain our strict cleaning and disinfecting protocols, and schedule appointments to limit how many people can be in a waiting room at one time. If you have more advanced cases of decay or an infected tooth, then our team may instead suggest a root canal or crown, which allows us to extract infected tissues and then cap the tooth with a custom-made dental crown, one that looks natural and blends with your smile. If you have any questions about health and safety protocols, or about avoiding cavities while you're stuck at home, then contact our team today.
SUNNY SMILES IN EL PASO PROVIDES RESTORATIVE CARE
At Sunny Smiles in El Paso, TX, we would like to help you stay free of advanced decay or infection. For more information on restorative treatments or to schedule your next consultation, contact our N. Zaragoza dental practice by calling 915-849-9000.