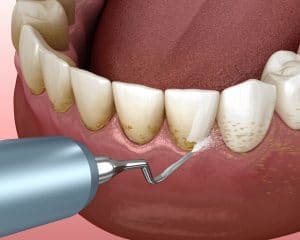 We recently discussed the benefits of routine checkup and cleaning visits. In today's blog, we would like touch on this subject again, this time focusing on a unique procedure known as a perio cleaning, or a scaling and root planing. Your El Paso, TX, dentists may recommend this option for people gingivitis or the early stages of periodontal disease.
Perio vs. Traditional Cleaning
A traditional cleaning is performed at least once every six months, or every three to four moths for those with high risk factors for periodontal disease. The process involves the use of an ultrasonic scaling device and a manual tool to remove all plaque and tartar from the surface of the teeth. We then polish the teeth for a smoother finish and brighter appearance. A perio cleaning is recommended for those with gingivitis or the early signs of periodontal disease. The treatment is designed to prevent inflammation from growing more severe, allowing us to manage it and prevent periodontitis, the advanced stage linked to tooth loss. The treatment involves the use of an ultrasonic scaling device to remove plaque and tartar from both the teeth and the surfaces of the roots as well. The process can take one visit, or up to four, depending on the extent of your buildup.
When to Seek Treatment
You should see us if you begin to experience the warning signs of periodontal troubles, which could include sore gums, redness, bleeding when brushing and flossing, receding gum tissue, or swelling. This treatment could reverse gingivitis, or help manage gum disease to safeguard our smile. Don't let a minor issue lead to something that causes serious pain or even tooth loss, talk to our team as soon as you experience any changes to your gums!
Protecting Your Smile
To keep your smile healthy and reduce the risk of periodontal issues, we suggest taking time to brush your teeth for two minutes twice a day, and floss every night before going to bed. When you floss, make sure you move the floss tape up and down each side of every tooth, making contact with the gums when you do. Avoid smoking or using tobacco products, and make sure you see us every few months for a checkup and cleaning so we can monitor your smile throughout the year. These steps not only keep your smile bright and attractive, but can stave off disease and other serious oral health complications.
TALK TO SUNNY SMILES IN EL PASO, TX ABOUT PERIODONTAL CLEANINGS
At Sunny Smiles in El Paso, TX, we would like to help you enjoy better oral health with routine care both at home in and in our office. For more information on our preventive procedures, contact your El Paso, TX, dentists at Sunny Smiles on Dyer Street by calling 915-859-7000.