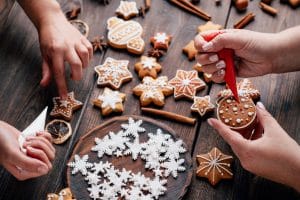 Holidays tend to raise our spirits because we are able to spend more time with friends and family at fun social gatherings. These gatherings tend to offer an assortment of tasty foods and drinks that are hard to turn down. While these festive snacks and desserts can be tasty, they can be trouble for your smile if you enjoy too many of them during the season. Our El Paso dentist's office wants everyone to enjoy their holidays while being mindful of their oral health. At your next routine dental exam, you can receive a close review of your smile that can reveal problems with tooth decay that might receive attention. It should be noted that our practice can also provide smart tips on better oral care at home, as well as an expert teeth cleaning, to help you avoid troubles with decay!
People Tend To Indulge During The Holiday Season
Without realizing it, your diet can undergo a significant change around the holidays. Gatherings that offer desserts and snacks can expose you to more sugars and starchy foods than you realize. Family meals can offer a variety of popular dishes and sides, but those sides may be richer and less nutrient-dense than you anticipate. Even if this is only a brief part of the year, it is a time where our teeth can be at risk for trouble. Being mindful of your oral health as you choose snacks and meals can help you avoid problems that might require restorative dental work in the new year!
We Can Help You Keep Your Teeth Healthy During Every Routine Appointment
At every routine dental exam, patients enjoy the protection of expert preventive dentistry, which can help them avoid issues like tooth decay and gum disease. Part of your visit will consist of an expert teeth cleaning to remove accumulated plaque, as well as any deposits of tartar that might have formed since your last appointment. Tartar removal is particularly beneficial for you because this substance resists brushing and flossing. You will also receive a thorough review from your dentist in order to determine if there are any active issues that need to be addressed. During your meeting, you and your dentist can discuss your current oral care routine, and you can ask questions that can lead to better future habits.
Tips To Help You Avoid Cavities Between Visits
By brushing two times a day and flossing once, you maintain a routine that can help you keep tartar deposits from forming. Consistent habits make it less likely that plaque deposits will remain on your smile for enough time to harden into tartar. Being thorough will also help you keep hard-to-reach areas protected. When it comes to dieting, make a conscious effort to avoid sugary and sticky products, and look to craft meals that are nutrient-rich in order to limit the threat that oral bacteria can pose.
Count On Important Preventive Dental Care At Sunny Smiles In El Paso, TX
At our El Paso, TX dental offices, patients can count on us to deliver important oral health services at every appointment. To find out more, contact the Sunny Smiles location on Dyer Street by calling 915-859-7000.