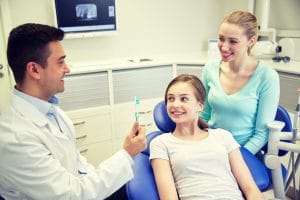 When it comes to the demands of family life, any opportunity to make your day more convenient can be greatly appreciated. When it comes to making sure everyone has access to oral health care, you can rely on our El Paso, TX dentist's office to help you and your kids. We welcome patients of all ages to our practice, and we recognize how the needs of patients can change as they age. This means more than just providing the kind of routine preventive cleanings and exams that patients generally require. We can make sure that our younger patients are developing a clear sense of why good dental care is important, and help adults protect their teeth and gums from harm as they age.
Our Practice Can Provide Important Care For Patients Of All Ages
Because our practice is prepared to help patients of all ages, you can bring everyone in your family to see us for dental services! Your kids can receive special attention during pediatric dental appointments, as your dentist will work with them to make the importance of a healthy smile clear. The guidance they receive can include dedicated assistance with brushing and flossing, so kids develop proper habits at the right time. For adults, we can provide important protection against cavities and gum disease so that your smile stays in good shape through the years. While you may have a clear idea of how to keep your teeth healthy, factors like enamel erosion and other medical matters can start to affect your ability to effectively prevent cavities on your own.
Helping Children Develop Lovely, Healthy Smiles
Once your kids are old enough to begin seeing their dentist, we can make sure their smiles are developing normally, and that they are free from problems with tooth decay. From the moment their teeth start to arrive, kids should have protection against decay, even if their teeth are only temporary. In addition to carefully cleaning and monitoring growing smiles, we can work with kids on the way they brush and floss in order to instill good habits in them. Those habits can help them avoid cavities while they are young, and keep them motivated to avoid oral health troubles when they are grown!
Maintaining Your Oral Health As An Adult
If you want your teeth to look their best through the years, expert cleanings and exams are important. Your regular trips to see your dentist help you avoid restorative dental work, particularly work that might require a more involved procedure. We are also here to discuss any interest you might have in cosmetic dental work over time!
Set Up Dental Care For Your Family At Sunny Smiles In El Paso, TX!
Our El Paso, TX dental practices are proud to help area residents of all ages keep their teeth in terrific health! For more information, or to make an appointment at our N. Zaragoza Road location, contact your El Paso, TX, dentists at Sunny Smiles by calling 915-849-9000.