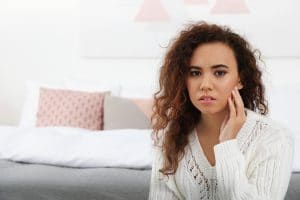 If your tooth starts to feel sensitive to temperature extremes or pressure, or if you have a constant ache, you can be understandably worried about its condition. Many people who start to suffer discomfort can wonder what their dental care might involve. If your problems are linked to an infection, or damage to your inner tooth structure, root canal therapy can put a stop to the problem. Our El Paso, TX dental office can provide root canal therapy for you in order to stop this threat to your oral health, and ensure you are once again free from the chronic pain in your tooth. 
A Persistent Toothache Is Something That Should Concern You
People sometimes ignore the signs of poor oral health because they do not want to schedule restorative dental care. What you should know is that our modern approach to restorative work can minimize needless discomfort, and ensure your smile is effectively cared for as we resolve a problem. You should also know that ignoring the signs of dental trouble can allow a problem to worsen, potentially to the point where your tooth will have to be extracted!
We Can Arrange Root Canal Therapy To Restore Your Oral Health
Root canal therapy stops a problem with your tooth by removing damaged or infected tissues in your pulp before sealing the tooth, and restoring it with a dental crown. When this is performed, your dentist ensures that any bacteria in your pulp are removed before they have the opportunity to spread through your root, and cause further health troubles for you. This procedure is only recommended in situations where a tooth is already in serious jeopardy, and at risk for being lost. With that in mind, you should recognize the importance of acting quickly if you think your tooth is in poor condition!
We Can Restore Your Tooth With A Custom, Lifelike Crown
After restoring a tooth through root canal therapy, your dentist will restore it with a dental crown. The crown placed on your tooth will be custom-made in order to provide a secure and comfortable fit. It will also provide functional support so that you are able to bite and chew without issues. Our office does provide porcelain and zirconia crowns, so you will not have to worry about your appearance being altered by the presence of your restoration.
Reach Out To Sunny Smiles In El Paso To Receive Care For Your Toothache
At Sunny Smiles in El Paso, TX, patients who are struggling with dental pain can count on us for important smile support! If you have questions about dental crowns, if you think you might need treatment, or if you want to book your routine oral health visit, you can contact our N. Zaragoza dental practice by calling 915-849-9000.