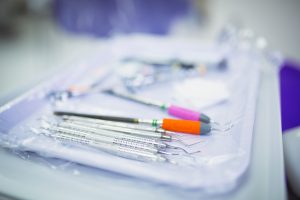 You're probably familiar with a routine dental cleaning, but what if a patient comes to us with gingivitis or periodontal disease? In order to prevent periodontitis and adult tooth loss, your El Paso, TX, dentists may recommend a deep cleaning, also known as a scaling and root planing. In today's blog, we're going to look at this unique preventive procedure in detail!
Traditional Dental Cleanings
Now, a traditional dental cleaning is one we offer every six months for adults, which removes plaque buildup and tartar (hardened, calcified plaque) from the surface of the teeth. Plaque forms when bacteria break down food particles, leaving behind a sticky layer on the teeth. Unless removed, plaque buildup could weaken and erode tooth enamel, causing cavities to form. The buildup also irritates and inflames gum tissue, boosting the likelihood of gingivitis and periodontal disease. The procedure takes only a short time to complete and we polish the teeth afterward for a brighter appearance.
Scaling and Root Planing
A deep cleaning, or a scaling and root planing, is used for those with gingivitis or the early stages of gum disease. The treatment is more thorough, breaking up plaque with an ultrasonic scaling device and removing buildup from the roots as well. The procedure can reverse gingivitis, and manage periodontal disease to prevent the onset of the advanced stage, known as periodontitis. The procedure can be competed in a single visit for minor buildup, or take up to four for more severe cases. Afterward, we will schedule routine cleaning every three to four months to continue to monitor your smile and control your periodontal disease.
Protecting Your Gums and Teeth at Home
In addition to care in our office, you will need to take steps to protect your smile at home. For example, don't smoke or use tobacco products. You also need to brush your teeth when you wake up and again before going to bed, for at least two minutes per session. We suggest using a toothbrush with soft bristles to prevent gum irritation if you brush too hard. Flossing is also crucial, as this removes the bits of food caught between teeth or trapped in the gum line, which a toothbrush alone cannot. If you have any questions about homecare, or about either of our preventive treatments for removing plaque buildup, the contact our team today. We're here to help you enjoy optimal oral health and a bright, whole smile!
SUNNY SMILES IN EL PASO OFFERS CLEAN AND BRIGHT SMILES
At Sunny Smiles in El Paso, TX, our team provides preventive care to help safeguard smiles of all ages. If you have questions about how we improve oral health, then please call our East El Paso location on N. Zaragoza Road at 915-849-9000!