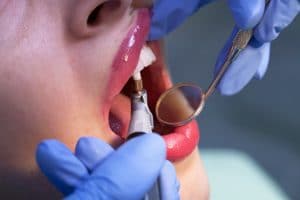 Did you know your El Paso, TX, dentists offer more than one type of cleaning? There's a big difference between a routine six-month option, and a periodontal cleaning. One is necessary to maintain a healthy smile, the other to reverse inflammation and manage your oral health. In today's blog, we're looking at the difference between these preventive treatments and explaining why they can be essential for maintaining optimal oral health.
Routine Six-Month Cleanings
A routine dental cleaning is necessary for people ages two and up, benefiting children, teens, and adults. The procedure involves the dentist performing a thorough exam of your smile to assess the state of your oral health, and if necessary, create a personalized treatment plan. Next, we use a manual tool and an ultrasonic scaling device to remove all plaque from the surface of the teeth. Plaque, a bacterial byproduct, creates a sticky layer over the teeth. Not only does plaque make stains more apparent, but the buildup also weakens and erodes tooth enamel and inflames gum tissue, increasing the risk of cavities and gum disease. After we remove the buildup, we then polish the teeth for a more attractive appearance.
Scaling and Root Planings
But what if you already have gingivitis, or the early stages of gum disease? If so, then you may need more than a routine dental cleaning. You may need a scaling and root planing. The procedure involves the complete remove of all plaque from the teeth with an ultrasonic scaling device, and the smoothing of the root surface. The procedure can take between one and four visits, depending on the extent of your buildup. The procedure enables healthy gum tissue to adhere to the teeth, closing periodontal pockets. Afterward, you will need more frequent visits to protect your smile, usually every three to four months.
Preventing Serious Plaque Buildup
You can also take steps at home to limit your plaque buildup. In between six-month appointments, you should take time to brush your teeth twice a day for about two minutes, and floss every night before bed. This removes food particles that would otherwise feed harmful bacteria. You enjoy a brighter smile and a lower risk of tooth decay and periodontal issues. If you have any questions about homecare or about routine preventive visits, then contact our team today. We would love to see you and your family for an exam and dental cleaning!
TALK TO SUNNY SMILES IN EL PASO ABOUT PREVENTIVE CARE
At Sunny Smiles in El Paso, TX, our team can help you enjoy healthy smiles with routine preventive and general dental care. If you have questions about keeping your teeth clean, you can reach our East El Paso dental practice on 10039 Dyer St., at 915-859-7000!