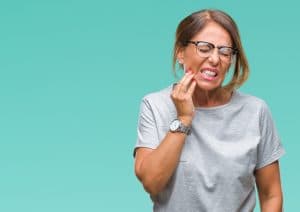 Our teeth may develop temporary aches for a number of reasons, few of which are a cause for concern. However, when you experience pain or sensitivity that persists for 48 hours or more, then you may need to see your El Paso, TX, dentists right away. Find out why a regular toothache could mean the need for a checkup and possible treatment.
Dental Checkups and Cleanings
If you experience pain, let us know. Our team will perform a thorough exam with advanced technology, creating a detailed picture of your current oral health. This allows us to look at your teeth with greater accuracy, pinpointing the possible causes of discomfort. For example, we will look for the presence of a cavity or a dental infection. We will also look for signs of wear and friction that could point to TMJ disorder or bruxism (teeth grinding). By identifying the cause of your toothache, we can offer repair to stop discomfort and treatment to prevent further damage. For a cavity, we can place a filling in a single visit. For an infection, a root canal can restore the smile. If you have damaged teeth due to persistent grinding and clenching, then we may use dental bonding, or possibly a crown or veneer, to return your tooth to optimal health, function, and beauty.
We also clean your teeth, which means we remove all plaque and tartar from your smile. A bacterial byproduct, plaque could weaken tooth enamel and increase the risk of aching teeth. The cleaning takes only a few minutes and helps protect your smile from a host of serious oral health concerns. To prevent the common causes of discomfort we suggest seeing us for an exam and cleaning every six months.
Preventing Toothaches at Home
A number of factors could make your teeth hurt, such as sinus or allergy issues, or even changes in elevation or a particularly chilly winter day. However, these aches pass after a few hours. The pain that lasts for days could mean decay or infection, or damage as a result of teeth grinding or an injury. To prevent further aches, we suggest wearing a mouthguard when you play sports to avoid damage. At home, be sure you brush and floss daily to limit the risks of cavities and infection. Cutting back on sugary foods and drinks can also lower the chances of aches and sensitivity. If you have any questions about toothaches, or if your tooth currently hurts, then please contact our team today.
TALK TO SUNNY SMILES IN EL PASO ABOUT OUR CHECKUPS
At Sunny Smiles in El Paso, TX, our team is ready to help you maintain healthy smiles with regular six-month dental checkups. If you have questions about preventive and general dentistry, you can reach our East El Paso dental practice on 10039 Dyer St., at 915-859-7000!