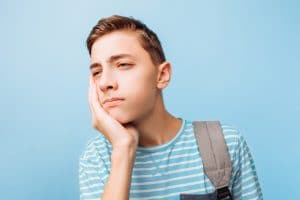 Just because you have a painful cavity, doesn't mean you will need to undergo multiple visits and treatments. In fact, we often help repair smiles both young and old in El Paso, TX, with a single-visit solution. Find out how our tooth-colored composite resin fillings can treat tooth decay and stop the pain in your smile!
Do You Have a Cavity?
How do you know if you have a cavity? Well, if you and your family attend regular checkup and cleaning visits, then we will be able to identify the presence of a cavity in the earliest possible stages. Otherwise, you may not be aware of trouble until you begin to experience tooth sensitivity to foods and drinks, or a painful toothache. Once you experience pain in and around your tooth, the decay is likely advanced and treatment is crucial for avoiding the onset of an infection, which will likely require a root canal to treat. See us right away if you or your little one experience pain in your smiles.
Treatment with a Dental Filling
A filling halts the progression of decay and protects the tooth from infection and abscess. To begin, our team will remove all decay from the tooth and thoroughly clean it. Next, we prepare the composite resin material we use in the procedure. Instead of metal, we use composite resin because the material offers a more lifelike appearance. We can actually shade it to match the color of the tooth! In addition, the composite resin is safe for people of all ages, including those with metal allergies.
After we prepare and place the material onto the tooth, we will sculpt the tooth as we cure the composite resin under a light. The final step is to polish the tooth thoroughly to provide a more natural appearance. The procedure is safe for kids and adults alike, and offers a natural-looking solution to serious oral health issues.
Preventing Cavities in Kids and Adults
What steps you should you and your family take to avoid cavities completely? Start by cutting back on sugary food and drinks, which feed cavity-causing bacteria. Also, see us every six months to have your smile cleaned, which removes all plaque from the teeth and prevents a cavity from forming. In addition, be sure you start each day by brushing your teeth thoroughly, and do so again at night. You also need to floss as well!
TALK TO SUNNY SMILES IN EL PASO ABOUT OUR RESTORATIONS
At Sunny Smiles in El Paso, TX, our team wants to help treat cavities with a lifelike dental restoration. If you have questions treating cavities and repairing aching teeth, you can reach our East El Paso dental practice on 10039 Dyer St., at 915-859-7000!