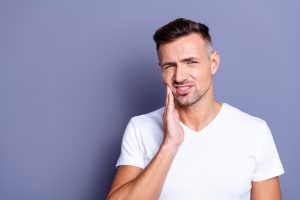 Not every toothache is a sign that you need restorative dental treatment. For example, an ache may be connected to a sinus infection. However, a persistent discomfort, or an issue with sensitivity that continues to worry you, should be considered a problem worth addressing with your dentist. At our El Paso, TX dental practice, we can work with you to see why you have a toothache, and recommend appropriate treatment. We are also available to help you if you have an issue with dental pain that calls for an emergency dental appointment.
A Toothache That Continues To Be A Problem May Be A Symptom Of A Cavity
A persistent toothache can occur because of an untreated cavity, particularly a cavity that has grown advanced enough to cause problems with your tooth's pulp. Ongoing trouble of this nature should not be ignored. If too much harm is done to the tooth, the damage can be too severe for the tooth to be saved, meaning your dentist will have to perform an extraction. Fortunately, many people who come in with cavity troubles can have the problem addressed via a root canal procedure, which allows them to keep the tooth.
Dealing With Tooth Decay, And Preserving Your Smile
Once a cavity is identified, your dentist can remove it, and determine how to restore the condition of your tooth. Modern restorations that we provide to patients can deliver great protection, and help support your dental function, while also avoiding issues that might affect your appearance. Modern dental fillings and dental crowns can be made from materials that match the appearance of dental enamel – in fact, these materials can even be tinted to make sure they match the color of your surrounding teeth.
Can A Toothache Call For Emergency Dental Work?
If a toothache is particularly painful, and not subsiding, you can have an understandable urge to see your dentist as soon as possible! A patient in need of prompt care can request an emergency dental treatment. These visits, which can also be arranged after a physical injury, can make sure the problem with your oral health is identified and addressed with minimal delay. This allows you to once again be free from pain, and it will allow you to put a stop to a problem that could worsen, and create additional concerns for you.
Talk To Sunny Smiles In El Paso About Taking Care Of Your Toothache
At Sunny Smiles in El Paso, TX, our practice is proud to deliver quality oral health care to patients when they need urgent attention! If you are concerned about a toothache, we can review the matter, determine what might be wrong, and provide treatment. For more information, or to set up an appointment, you can reach our East El Paso location on N. Zaragoza Road by calling 915-849-9000!