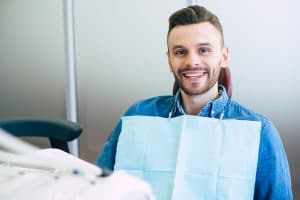 When it comes to your oral health, there is more to worry about than just the formation of tooth decay! While cavities can create potentially serious problems, and should not be trivialized, this is just one of many issues you need to watch out for if you want to prevent smile troubles. Fortunately, you can count on your El Paso, TX dentist to offer support against many different issues during every routine dental review. At every checkup, your dentist is looking for any problems that might be affecting your quality of life. That includes signs of bruxism and TMJ dysfunction, potential gum disease, and any other health issues that can hurt your quality of life.
Regular Dental Checkups Allow Your Dentist To Thoroughly Evaluate Your Oral Health
When your dentist checks on your oral health, the review you are given is focused on more than just tooth decay. Over the course of your visit, you and your dentist can discuss any issues you might have with discomfort, and signs of wear and tear on teeth that are visible. Discomfort and dental wear and tear could be the result of TMJ dysfunction and teeth grinding! A custom guard can be designed to help you deal with these matters. You can also talk to your dentist about issues with sleep apnea, as we may be able to provide relief for this problem as well.
What To Expect Over The Course Of Your Routine Dental Visit
Every routine visit with your dentist focuses on a thorough evaluation of your oral health, and a cleaning of your teeth. The evaluation is important because it can lead to the detection and treatment of potentially serious problems. The cleaning you receive is also beneficial for your long-term care, as your hygienist removes harmful agents that can create issues in the future. Every cleaning leads to the removal of plaque and tartar that form on your teeth, and at your gum line. The removal of these deposits make future cavities and gum disease less likely.
Setting Up The Appropriate Treatment For A Problem Found During An Exam
If a problem with your oral health is identified, your dentist can recommend the appropriate course of action through restorative dental work. When oral health problems are detected in their early stages, they can be easier to manage, which can mean less invasive procedures in your future.
Talk To Sunny Smiles In El Paso About Scheduling A Review Of Your Oral Health
At Sunny Smiles in El Paso, TX, patients receive thorough care during every routine review of their oral health! In addition to examining your smile and looking for possible concerns, we can arrange treatment if any is called for. If you want more information, or if you are ready to book an appointment, please contact our East El Paso location on N. Zaragoza Road by calling 915-849-9000!