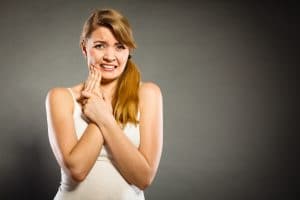 If you find yourself in a situation where your a tooth feels fine, except when you put pressure on it when you bite and chew, your tooth is likely in worse shape than you might want to admit. It is important to deal with a situation like this promptly. Putting off treatment can lead to the health of your tooth worsening, and you can create new problems when you compromise your bite function. At our El Paso, TX dental practice, we can provide restorative dental work that will return your tooth to good health, and stop any issues with an infection. Because we use dental fillings and dental crowns that are impressively lifelike, you can even look forward to your smile being preserved after treatment!
You Should Be Concerned About Pain That Interferes With Your Bite Function
If you are not able to perform your natural bite function because of dental pain, you should be concerned about your oral health. Persistent pain or sensitivity that affects your tooth may be the consequence of an untreated cavity causing an internal infection, or an unaddressed injury. Ignoring the problem can allow it to worsen, and create more trouble for you. Unfortunately, the threat to your tooth is not the only problem you need to worry about. Your compromised bite motions can put stress on your jaw, and lead to issues with TMJ dysfunction.
Your Pain Could Be Due To An Untreated Cavity
If you have a toothache without a clear cause, that pain could be a symptom of an untreated cavity that has led to an internal infection. This results when decay exposes your pulp (the inner chamber of your tooth) to oral bacteria. Over time, the bacteria within your tooth can actually spread further by traveling through a tooth's root. By restoring the tooth's health with a root canal procedure, your dentist will stop the threat of an infection, put a stop to your pain, and prevent the complications that result when a cavity is not treated.
How Will You Look After Dental Work Is Completed?
Because lifelike restorations are trusted to address problems with our patients' teeth, you can look forward to dental work that can preserve your appearance, as well as your proper dental function. If you need to have a crown placed on a tooth that is visible when you smile, you can learn how one can be custom-made to fit your tooth, and blend in with its surroundings so your appearance is unchanged!
Talk To Sunny Smiles In El Paso, TX If You Have Pain Affecting Your Bite
At Sunny Smiles in El Paso, TX, patients can look forward to great care when they have problems with dental pain! If you think something may be wrong with your oral health, let us know as soon as possible so we can arrange the appropriate treatment. For more information, you can reach our Northeast El Paso location on Dyer Street by calling 915-759-7000!