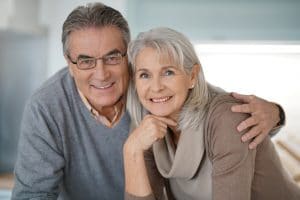 You can have an understandable problem with the way you look if you suffer tooth loss. Unfortunately, this issue does more than just change a person's smile. You can find that biting and chewing become more difficult when you have to work around the absence of just one tooth. Over time, unaddressed tooth loss can put neighboring teeth at risk for being lost, while also creating problems with your jawbone. If you want to make sure you address these problems associated with tooth loss, talk to your El Paso, TX dental office about dental implants! Implants can be used to replace individual missing teeth, and they can be used to hold larger restorations.
The Loss Of Teeth Can Negatively Affect Your Jawbone, And Your Dental Function
How much impact can tooth loss have on an individual's daily life! It only takes one missing tooth to create issues for your dental function. Over time, the effort you make to work around a gap left by tooth loss can add to the friction placed on remaining teeth, which can make you more vulnerable to problems. That change in your bite can also create stress on your jaw joints, and increase your risk for TMJ dysfunction. It should also be noted that the loss of your tooth's root also becomes an issue, as the root is no longer stimulating your jawbone. Without that stimulation, the bone loses access to important nutrients!
How Dental Implants Help You Enjoy Better Prosthetic Support
Dental implants keep restorations stable, so that in addition to restoring your smile, your prosthetic dental work can improve your dental function.When you have an implant-held prosthetic, you can bite and chew with more comfort, as you can rely on them to absorb bite pressure. Your implant is inserted directly into your jawbone. After an appropriate healing period, a permanent dental crown can be set into position. For more advanced tooth loss, a dental bridge can be put in place with implant support, too. You can even use All-On-4 implant dentures to replace a full dental arch!
Using Same-Day Implants To Regain Your Full Smile Sooner
Are you interested in having your full smile back as soon as possible? Patients who are approved for same-day implants can receive an artificial titanium post that already has a restoration attached. This means that when your implant is placed, your smile is already restored! A typical implant placement and restoration process requires a period of several months where the jawbone is allowed to heal, so you have to wait longer for your smile to be complete again.
Talk To Sunny Smiles In El Paso About Dental Implants!
At Sunny Smiles in El Paso, TX, patients who want to do something about tooth loss can be eager to learn how dental implants can help them! We can provide you with a lasting solution to tooth loss that improves your bite function, and your appearance. If you would like more information, you can call our East El Paso location on N. Zaragoza Road at 915-849-9000!