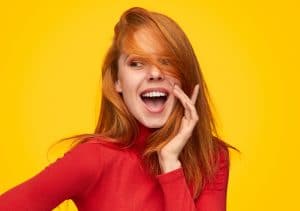 Is there a cosmetic dental treatment available to address the specific issues you have with your smile? You can be surprised by just how effective a procedure can be at correcting a range of different appearance flaws. You can see to it that your teeth look brighter and healthier, while also hiding alignment flaws that might bother you, with a single procedure! At our El Paso, TX dental practice, we are committed to helping people show off truly great smiles. If you want to know what can be done to make you excited about the way you look, we can work with you to provide all of your desired improvements.
The Path To Your Best Smile Might Be Shorter Than You Realize
When individuals have multiple concerns about the way their teeth look, they can picture a long and complicated path to meaningful cosmetic improvements. However, this may be far from the case when it comes to your dental work. We can offer procedures that take on multiple flaws at one time, so your time in the dentist's chair is limited. For example, you can see your teeth become remarkably more attractive when you make over your smile with porcelain veneers. This one procedure can effectively address matters concerning your tooth color, along with the shape, size, and placement of teeth.
Arranging Your Cosmetic Dental Work
When you bring your issues with your smile to your dentist's attention, you can start discussing what it might take to make meaningful changes. This may only require one procedure for you to see all of your desired improvements. However, you can discuss having more than one treatment, so that you can see the exact results you want. Some patients will arrange a gum contouring treatment to address concerns with the length of their teeth, and follow it with a teeth whitening treatment to brighten their smile.
Following These Tips Can Help You Preserve Your Smile Improvements
After having work done to improve your smile, you can be understandably eager to protect the way you look! If you want to do an effective job keeping up with your appearance, make sure you attend regular dental exams on a semiannual basis. Be mindful that habits like teeth grinding, and chewing on hard surfaces, can weaken or even hurt your enamel. To protect the color of your smile, limit your consumption of sugars, as well as acidic products.
Talk To Sunny Smiles In El Paso, TX About Correcting Your Smile Flaws
At Sunny Smiles in El Paso, TX, patients can look forward to fantastic cosmetic dental care! If you have questions about our services, or if you are ready to book a treatment, you can reach our Northeast El Paso location on Dyer Street by calling 915-759-7000!