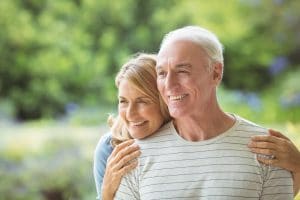 Tooth loss creates problems that can intrude on every day of your life. The functional difficulties you encounter can make biting and chewing food harder, and may even affect the way you speak. Of course, in addition to being an obvious concern for your oral health, this problem can impact your self-confidence, and change the way you are perceived by others. With this in mind, you can be happy to know that through modern prosthetic dental work, our El Paso, TX dental practice can restore your appearance, and address those issues that impact the way you are perceived. Dental implant-held restorations also provide real functional value, so you can also feel more confident when you bite, chew, and speak.
Tooth Loss Can Undermine Your Self-Confidence
Your smile can influence the way people perceive you. A full, healthy set of teeth can make you look healthier, younger, and more assured. If you have a noticeable gap in your smile from tooth loss, perceptions about you based on your appearance can be less positive. Fortunately, you have access to lifelike dental restorations that can improve both your oral health, and your appearance!
Using A Dental Implant To Hold Your Restoration
Dental implant support can give you more than just cosmetic benefits from your prosthetic appliance. The implant is set directly in your jawbone, and it will act the way a tooth root acts for a natural tooth. The stability of this arrangement is due to the titanium material used to make the implant – in addition to being remarkably strong, this material is biocompatible, so your bone fuses with it while you heal. The implant will keep a restoration stable enough to let you bite and chew with no problems, and it can stimulate your jawbone, to keep it healthy.
Enjoying Life With Your Restored Smile
When you show off your smile after receiving a prosthetic dental crown, dental bridge, or denture, you can enjoy your revived feeling of confidence. Your benefits also extend to your ability to bite and chew food, which can mean returning to a fuller, more varied diet. In addition to providing you with quality prosthetic work, our practice can help you maintain your improved smile during regular dental exams.
Talk To Sunny Smiles In El Paso, TX About Receiving A Dental Prosthetic
At Sunny Smiles in El Paso, TX, patients who have experienced tooth loss can reach out to us about using dental implant-held restorations to bring back their complete smile. If you have questions about prosthetic dental work, or any other treatment that can improve your smile, let us know! We are proud to help people maintain healthy smiles, and we are ready to treat you if a problem affects your quality of life. You can reach our Northeast El Paso location on Dyer Street by calling 915-759-7000!