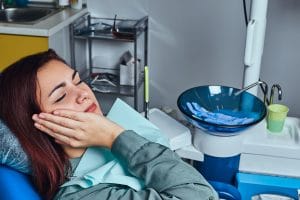 When everything seems totally in order with your oral health, you should still plan to see your dentist every six months for your routine dental evaluations. By scheduling these appointments and keeping up with them, you can sustain healthy teeth and gums, and preserve your attractive smile! What you should also know is that if something happens to your oral health in between those routine exams, you can arrange a visit to your El Paso, TX dentist's office. In fact, we can provide emergency dental care to people who find themselves in need of urgent attention due to signs of oral health trouble, or physical injury.
The Importance Of Prompt, Quality Treatment During An Emergency
Some problems offer little advanced warning, and make dental care a high priority. Fortunately, we are able to work with patients who find themselves in need of emergency treatment. You can come in to have your problem studied, and resolved, before the matter worsens. This is about more than just treating the symptoms of your issue – your dentist can make sure that all necessary restorative dental work is arranged, so that you can completely recover from this matter.
Understanding What We Can Do For You During An Emergency
As with any other situation where you might come in for treatment, your dentist's goal is to fully resolve your problem during an emergency dental visit. The first part of your treatment involves identifying the trouble, and restoring the health of your tooth. A tooth that is injured or in pain may call for a root canal treatment to fully address the issue that affects you. After this work is done, a custom restoration will be planned, designed, and ultimately placed. To ensure that your tooth is fully protected, a dental crown may be needed.
Our Practice Can Also Offer Consistent Preventive Dental Care
Remember that regular dental exams also provide important care for your smile, and real value for your oral health! If you want to lower your risk for something like tooth decay, which can lead to an infection and the need for emergency treatment, keep visiting us for your regular dental cleanings and checkups.
Sunny Smiles In El Paso Can Offer Quality Care During A Dental Emergency
A dental emergency is something you hopefully never experience. However, if you do find yourself in an unpleasant situation concerning your oral health, you can be happy to know that Sunny Smiles in El Paso, TX is ready to help! Our practice can provide quality care on short notice, and make sure that your needs are totally resolved. If you have questions about our services, if you want to know more about what we can do for you in an emergency, or if you want to make an appointment, please contact our Northeast El Paso location on Dyer Street by calling 915-759-7000!