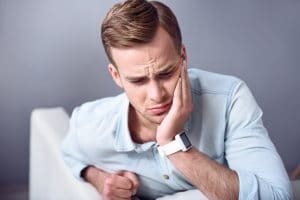 Dental pain is an intrusive, frustrating problem – it can also be a warning that something is really wrong with your oral health. If you try to ignore discomfort, even as it continues to assert its presence, you should know that you could be ignoring a problem that can worsen over time. If the pain is concentrated in your tooth, you might be dealing with an advanced cavity. Pain that is more general could be a byproduct of TMJ dysfunction, which can lead to difficult dental function, teeth grinding, and issues with chronic headaches. At our El Paso, TX dental practice, we can work with patients to determine why they have pain, then recommend the appropriate restorative dental treatment.
We Can Work With You To Determine Why You Have Dental Pain
Understanding why you are suffering from dental pain can lead to the appropriate care. At your appointment, your dentist will take care to study the problem tooth, or review your symptoms if you have more general discomfort. You may need a root canal treatment to deal with an advanced cavity, or problems related to an injured tooth. For problems with TMJ dysfunction, you can receive a special appliance, and your dentist can talk to you about habits that might be contributing to your issues. You should know that our practice can make emergency dental care available to you in the event that pain is intruding on your life.
Dealing With Pain Related To A Tooth Infection
Pain related to an infection can be addressed with a root canal, which will result in your dentist targeting any trouble within your tooth. Once this is done, your pulp (the inner chamber of the tooth) can be sealed for its protection, and your tooth can be restored with a dental crown. It is important to act quickly if you are dealing with pain, as a worsening cavity can reach a stage where your tooth has to be extracted!
Addressing Pain Caused By TMJ Dysfunction And Teeth Grinding
With a custom appliance, your dentist can alleviate discomfort associated with TMJ dysfunction. By wearing this appliance, you can relax the pressure on your jaw joints, and reduce your pain. A custom guard can also be designed to help protect your teeth if you have an issue with grinding them, particularly if you grind them at night.
Dealing With Dental Pain? Talk To Sunny Smiles In El Paso!
Dental pain is a difficult matter to deal with – fortunately, Sunny Smiles in El Paso, TX is ready to identify the matter, and provide the appropriate treatment! If you have questions about our services, or if you wish to set up an appointment, please contact our Northeast El Paso location on Dyer Street by calling 915-759-7000!