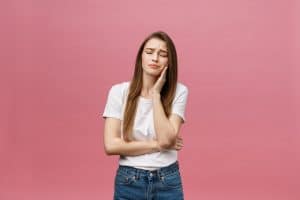 The throbbing pain in your tooth is certainly a problem, but it may not be your only concern when it comes to your oral health. A persistent toothache can be a sign that you are dealing with an infected tooth. This can happen when a cavity is not treated in time to stop decay from exposing your pulp, which becomes infected with harmful bacteria. If you try to ignore the problem at this stage, you can endure more complications, and you may lose your tooth! Your El Paso, TX dentist is ready to help you when you need restorative dental care to address tooth pain.
Are Cavities Always Painful?
A cavity can be painless when it starts to form, and only does harm to your enamel. While you can be relieved to avoid discomfort, this does mean that a cavity is harder to identify in its early stage. One reason that regular dental exams are recommended for patients is that each trip to your dentist's office is an opportunity for your dentist to find a recently-formed cavity. The problem at this stage can be treated with a dental filling, and you can avoid the kind of uncomfortable symptoms that accompany a tooth infection.
Arranging A Root Canal Treatment To Restore The Health Of Your Tooth
If you have develop a toothache that does not subside on its own in a short time, you may be dealing with the effects of an advanced cavity. This problem can be expertly treated with a root canal procedure. Your dentist will carefully access your tooth's pulp, then remove the infection before sealing this inner chamber. By performing this procedure, your issues with pain can be resolved, and you no longer have to worry about the worsening effects of your cavity.
Restoring Your Tooth After Your Treatment Is Finished
At our practice, we can provide a comfortable experience during treatment, and a high-quality restoration for your tooth to provide lasting support. We provide dental crowns that are custom-made – their comfortable fit is important for helping them feel like a natural presence. If you need work done on a tooth that is in a visible part of your smile, we can recommend a crown made from lifelike materials, which will allow it to blend in comfortably. Your crown will be durable and stable, so you can bite and chew food without problems.
Schedule Your Cavity Treatment At Sunny Smiles In El Paso, TX!
At Sunny Smiles in El Paso, TX, patients can come to us with toothaches and other oral health concerns, and look forward to great care! If you have questions about our services, or an issue with your oral health, you can reach our Northeast El Paso location on Dyer Street by calling 915-759-7000!