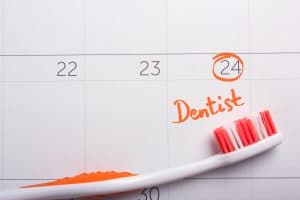 Every day, you should take time out for preventive dental care, and you should follow that up with diet choices that limit your risks for cavities. Brushing twice each day is important, just as it is important to make sure you take your time and reach every area of your smile. You also need to floss on a daily basis, to make sure you are cleaning areas that are difficult to address with your brush. With that said, your best efforts should be joined by professional dental care. On top of your daily dental cleaning habits, make sure you are seeing your dentist for regular dental cleanings and evaluations. Your El Paso dentist can provide you with dedicated oral health treatment every time you come in for a routine visit!
What Happens During A Professional Dental Cleaning?
A professional dental cleaning can do more for your smile than you can do on your own time. While brushing and flossing are effective, they can fail to remove tartar deposits. If the substance is left unaddressed, it can become a serious concern for your oral health, as tartar can continue to pose a threat for tooth decay and gum disease. In addition to removing tartar for you, your hygienist can warn you if certain areas of your smile are not receiving enough attention, allowing you to change your routine at home.
Other Services Provided During a Preventive Appointment
During every preventive exam, a person's smile is thoroughly checked for any signs of trouble that might demand restorative dental treatment. Fortunately, that early detection can lead to less involved care, as your dentist can step in before an issue becomes serious. A small cavity can be identified during a review, and a dental filling can be placed. If you only show up to see your dentist because you feel the effects of an oral health problem, you can require a root canal and dental crown!
Tips For Practicing Better Care Between Appointments
Stepping up your preventive care efforts is about more than just brushing and flossing more often, or more thoroughly. What you may need to do is start evaluating your diet, and look for ways to reduce your sugar intake. You can also improve your efforts by drinking more water, as staying better hydrated can make it easier for your teeth to stay defended against decay.
Schedule Your Next Dental Cleaning At Sunny Smiles In El Paso
Sunny Smiles in El Paso, TX is ready to help patients keep their teeth in top shape! Make sure you have your next dental cleaning and evaluation scheduled – unless your dentist recommends something different, you should plan to have a routine evaluation every six months. To make your appointment, your can reach our East El Paso location on N. Zaragoza Road by calling 915-849-9000!