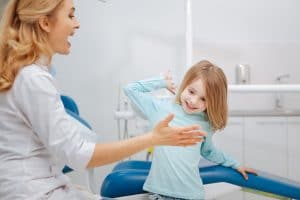 Your child's developing smile deserves great protection. While you can recognize the risks that are associated with poor oral health, kids are typically less clear on why they should be so worried about problems like cavities. They can also be more tempted by sweets, and less effective at brushing and flossing on their own. Bringing your child to checkups with your El Paso, TX dentist can supply them with more than the cleanings and evaluations you receive during your routine dental appointments. These visits are also opportunities for your child to learn about why their oral health matters, and how they can do a better job keeping their teeth in top shape!
Bringing Your Child In For An Initial Evaluation
An initial evaluation with a young child – typically after their first tooth arrives, or by their first birthday – will let your dentist check on their early development. This appointment also gives your child a chance to meet your dentist, and explore the new setting of the dental office, in a comfortable situation. This early exposure can make it easier for kids to go to the dentist when it is time to start regular pediatric visits.
Starting Regular Pediatric Dental Exams
At regular pediatric exams, your child will receive the kind of care you would typically receive during a general dental appointment. This means that their teeth will be properly cleaned, and that they can have their smile carefully studied for any signs that they might need restorative dental work. One reason these appointments differ from adult visits is that in addition to these services, your child can receive helpful instructions on better brushing and flossing. This can also be an opportunity to teach them about the importance of smile care, and why they need to take care to avoid cavities.
Carefully Treating Problems With Tooth Decay
Between their regular dental visits, and smart daily care, your child can have great protection against cavities. With that said, it is important for them to receive care if one forms, even if the tooth that is affected is only temporary. Your dentist can take a cautious approach when placing a dental filling for a child. The work will minimize the amount of dental material removed, so as not to interfere with their development.
Sunny Smiles In El Paso, TX Can Provide Valuable Oral Health Support For Your Child
At Sunny Smiles in El Paso, TX, families can look forward to their kids receiving great pediatric care! Our practice is proud to make quality care available to people of all ages in and around the El Paso community. In addition to routine reviews, we provide a range of restorative and cosmetic services. If you have questions, or if you wish to set up an appointment, you can reach our Northeast El Paso location on Dyer Street by calling 915-759-7000!