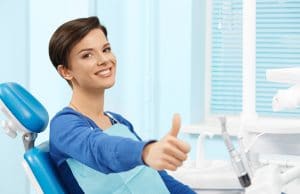 Having a dental practice you know you can count on can have important benefits for your long-term smile health. When you come to our El Paso, TX dental practice for regular dental exams, you can look forward to vital preventive dental care. Because of these appointments, your risks from tooth decay and gum disease can be expertly managed, and you can ensure that any problem that might develop between appointments is dealt with before it progresses. Our practice is also ready to help you take on any problems that you might have in an emergency oral health situation, so you can be reassured that help for an injury or other urgent matter is easily available.
Enjoying Valuable Care At Every Routine Checkup
Every routine dental exam can help you in your overall goal of maintaining your best smile. Our routine preventive visits include thorough reviews of your teeth and gums. Each time your dentist looks over your mouth, you are being closely checked for any signs of tooth decay, or any possible indicators of gum disease. If any problem is found, treatment can be arranged before the matter grows more serious. As a result, something like tooth decay can be addressed with a dental filling, and fully resolved before more serious care is required.
Talking To Your Dentist About Improving Your Smile
Our practice is ready to do more than just help you with your oral health – we are also ready to take on any problems you might have with your smile. We offer multiple cosmetic dental services that are capable of addressing many different situations. Are you worried that your teeth have become dull? We can talk to you about the advantages to pursuing a professional teeth whitening treatment. Are you bothered by issues with the shape or size of certain teeth? They can be covered up with attractive and durable porcelain veneers, and you can be impressed at how much better your smile looks!
We Can Also Help You If You Have A Dental Emergency!
If you ever find yourself experiencing a dental emergency, you can be happy to know that our practice does provide emergency dental treatment. You can have your visit arranged promptly, and have the matter addressed before it worsens. You can put a stop to any discomfort you feel, and make sure your smile is returned to good health as soon as possible!
Count On Sunny Smiles In El Paso To Keep Your Smile In Great Shape
Sunny Smiles in El Paso, TX is proud to provide great care to our patients! If you are new to the El Paso area, or if you have fallen out of the habit of regular dental appointments, we can help! You can reach our East El Paso location on N. Zaragoza Road by calling 915-849-9000!