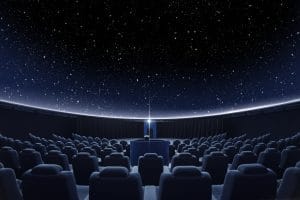 El Paso families can enjoy a chance to see the stars and avoid the heat this summer thanks to FREE shows at the Gene Roddenberry Planetarium! Throughout the summer months, visitors will be welcomed to enjoy special programs hosted at the venue. There will also be special programs narrated in Spanish for Spanish-speaking visitors. While the stars in the night's sky can shine brightly, teeth stains may have left your smile dull. Our El Paso, TX dental practice can provide you with improvements in the form of a professional whitening treatment!
When:
During the summer, there will be special programs held on Mondays, Wednesdays, and Thursdays, along with programs in Spanish held on Tuesdays. The planetarium will be open during the middle weeks of the months, and screenings will occur at 11 am, 2 pm, and 3 pm.
Where:
The Gene Roddenberry Planetarium is located at 6531 Boeing Drive, El Paso, TX.
Cost:
These screenings are FREE for families to enjoy!
Activities Include:
Throughout the summer, the Gene Roddenberry Planetarium is opening up for El Paso families to enjoy special FREE programs! There will be multiple screenings on days that the planetarium opens up – you can look forward to shows on Mondays, Tuesdays, Wednesdays, and Thursdays, with Tuesday programs in Spanish.
For More Information:
For more information about this event, click here.
Schedule Your Next Dental Exam At Sunny Smiles In El Paso!
At Sunny Smiles in El Paso, TX, families can look forward to fantastic oral health care! We provide important preventive services for patients of all ages who want to defend themselves against tooth decay, gum disease, and other issues. We also provide impressive cosmetic services! If you have any questions, or if you are ready to set your appointment up with us, you can contact our East El Paso location on N. Zaragoza Road by calling 915-849-9000!