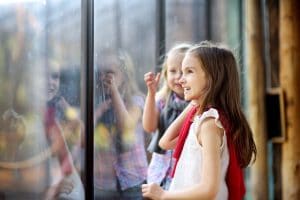 Starting on June 22, the El Paso Zoo will bring back its Zoofari Nights events! During the third Saturday of each month, Zoofari Nights will see the zoo stay open later into the evening. In addition to having more time to see all of your favorite animals – and watch how the time of day can change their behaviors – there will also be special presentations to enjoy! Taking the kids out to the zoo for the summer can be great fun for your whole family. Because they have the extra time that a break from school affords them, summer can also be a smart time to set up pediatric dental exams. Our El Paso, TX dental practice is ready to provide great preventive care for kids!
When:
The Zoofari Nights events will run on the third Saturday of every month starting on June 22. The final night will be August 10.
Where:
The El Paso Zoo is located at 4001 E. Paisano, El Paso, TX.
Cost:
Adult tickets are $12. Kids between ages 13 and 17 can enjoy a discounted ticket rate of $9, while kids aged 3 to 12 can receive admission for $7.50. Kids aged two and younger are admitted for free!
Activities Include:
During Zoofari Nights, the zoo extends its evening hours. This is a special chance to see how animals behave in the evening, rather than during the day. There will also be special presentations and activities planned.
For More Information:
For more information about this event, click here.
Schedule Your Next Dental Exam At Sunny Smiles In El Paso!
At Sunny Smiles in El Paso, TX, families are able to enjoy fantastic oral health care! We are ready to help patients of all ages keep themselves protected against cavities and gum disease. We also offer cosmetic care, and we can perform restorative work to improve your smile. For more information, you can reach our East El Paso location on N. Zaragoza Road by calling 915-849-9000!