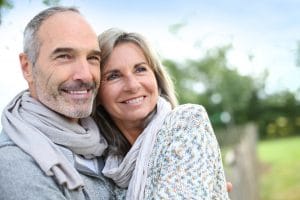 After losing a tooth, a patient can understandably be eager to have the problem treated as swiftly as possible. After all, the sooner the matter is addressed, the sooner you can go back to showing off your complete smile. Recovering from tooth loss also means improving on your dental function. While dental implants offer great benefits to patients who are going through prosthetic dental work, the delay between the implant's placement, and its restoration, can be less than thrilling. Fortunately, it is possible to have your smile restored without this delay! Your El Paso, TX dentist's office can offer same-day implants to patients who qualify. These special prosthetic appliances have a custom restoration attached to your implant, so the placement of your implant also gives you your replacement tooth!
What Does A Patient Gain From Having Same-Day Implants?
To put it simply, when a patient receives a same-day dental implant, they receive their replacement tooth without a frustrating delay. This appliance is different than a standard implant, which is set directly in your jaw before having a restoration attached. Under a traditional implant placement and restoration treatment, you would not receive your prosthetic tooth until an appropriate period of healing for your jaw had occurred.
Talking To Your Dentist About Same-Day Implants
If you want to have a same-day implant for your incomplete smile, make sure you bring up treatment with your dentist as soon as possible. By doing so, you can limit the prolonged effect that tooth loss can have on you. Leaving your smile incomplete can be a problem for your jawbone, because the bone tissue can deplete over time when there is no root to stimulate it.
Even if you are not able to have a same-day implant placed, there are important advantages that come with an implant-held restoration. You can have an easier time biting and chewing, and the return of stimulation to your jawbone can be useful to keeping the bone healthy over time.
Restoring Your Incomplete Smile Offers Many Benefits
Any restorative dental work a person undergoes can have benefits for their appearance, and their oral health. You can find that when you have a smile gap closed with your same-day implant, you will boost your confidence in the way you look, as your restoration can do a wonderful job of imitating your missing tooth. You can also find that having a secure prosthetic is more comfortable as you speak and laugh. After an appropriate healing period, that implant-held crown can offer more support when you bite and chew, too.
Talk To Sunny Smiles In El Paso, TX About Same-Day Implants!
Sunny Smiles in El Paso, TX is ready to help you restore your complete smile with a same-day implant! Our practice is proud to make this treatment option available to qualifying patients who are ready to do something about that missing tooth. To learn more, please contact our Northeast El Paso location on Dyer Street by calling 915-759-7000!