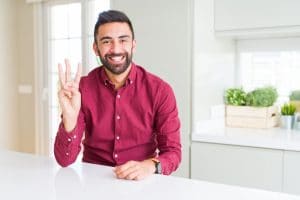 How can tooth loss affect your life? The answer to this question will depend on how you respond to the matter. When you do nothing to address the loss of a tooth, or multiple teeth, you can start to have frustrating issues with biting and chewing, and you can become self-conscious about the way your incomplete smile looks. If you seek out the appropriate restorative dental work, and address those losses, you can minimize any issues connected to those losses. Your El Paso, TX dentist can provide restorations in the form of dental bridges and dentures, so make sure your smile is still complete. Our practice can also discuss dental implants with you, so that you can enjoy a superior degree of support for your restoration.
1. Changes In Your Biting And Chewing Function Due To Tooth Loss Can Create New Problems
If you have to adjust the way you bite and chew due to tooth loss, you can start to experience discomfort, and develop problems with TMJ dysfunction. If your tooth loss is severe, you may find yourself giving up different foods, and losing out on important nutrients because your diet is limited.
2. Waiting To Do Something About Tooth Loss Can Affect Your Candidacy For Dental Implants
With dental implants, you can have restorations that are secured to your jawbone, and stable enough to let you bite and chew without discomfort. Because implants are set directly in your jawbone, problems with the bone can interfere with placement. Because of this, you should be aware that if you delay restorative work, your jawbone can deteriorate over time, and make it harder for you to be approved without undergoing a jawbone graft, which will delay your placement.
3. You Can Look Forward To Cosmetic And Functional Benefits From The Right Prosthetic Treatment
With the right prosthetic treatment, you can show off a smile that looks complete, and healthy! You can also enjoy functional benefits that allow you to enjoy more foods while biting and chewing naturally. If you have not done anything to address tooth loss at this point, making an appointment to learn how your smile can be restored can lead to some truly exciting improvements to your quality of life!
Sunny Smiles In El Paso Is Ready To Help You Deal With Tooth Loss
At Sunny Smiles in El Paso, TX, people who have experienced tooth loss can look forward to some truly terrific improvements! We can meet with you to discuss your options for addressing gaps in your smile, and ensure that your restorations are stable enough to help with your dental function. We also provide quality preventive care, which can help you maintain your oral health. To find out more, you can reach our Northeast El Paso location on Dyer Street by calling 915-759-7000!