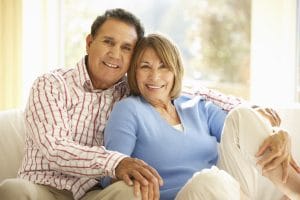 Few oral health problems are as difficult to work around, or ignore, as tooth loss. If your smile is not complete, it can be a big problem for your appearance, and it can make actions like biting, chewing, and speaking harder for you. You should know that you have access to quality prosthetic dental care from your El Paso, TX dentist's office. With a proper restoration in place, your appearance and dental function can see meaningful improvement. In addition to talking with you about the value of a prosthetic restoration, your dentist can discuss the benefits of having your restoration set on a dental implant.
Tooth Loss Can Hurt More Than Just The Way You Look
Smiling can be less pleasant for a person whose appearance is impacted by tooth loss. After all, the sight of that gap where a tooth should be can cause people to assume that you are unhealthy, and it can age you. These reasons are often to spur many people on to seeing their dentist for help. With that said, there are also problems with your oral health that should receive your attention. If you continue trying to bite and chew with an incomplete smile, you can aggravate your jaw joints, and experience troubles with TMJ dysfunction. You can also unintentionally demand more from your remaining teeth. The added stress in this situation can leave you more vulnerable to cavities, and to further toot loss!
Restoring Your Smile With A Dental Implant
Dental implants take care of an important issue created by tooth loss. As much as the crown, or the visible portion of your tooth affects your appearance and dental function, the roots of teeth also have important roles to fulfill when it comes to your oral health. When roots are lost, your jawbone receives less stimulation over time. When stimulation goes away, your jawbone can begin to deteriorate, which can create new issues for you. Implants act as artificial roots for prosthetic teeth – they keep restorations in place by connecting them to your jawbone, and they stimulate the bone, and restore the flow of nutrients.
Keeping Up With Your Oral Care After Tooth Loss
While proper preventive dental care always matters, it can be particularly important after you have restored your smile. Keeping up with brushing and flossing will help you prevent bacteria from creating problems with your new dental implant. Proper dental visits allow your dentist to check on your restoration, and remaining teeth, to make sure there are no new problems that need to be addressed.
Talk To Sunny Smiles In El Paso About Replacing A Missing Tooth With A Prosthetic
Sunny Smiles in El Paso, TX is ready to help patients tackle tooth loss! Our practice can talk to you about using dental implants and lifelike prosthetic restorations to make your smile complete once again. To learn more, you can schedule an appointment at our Northeast El Paso location on Dyer Street by calling 915-759-7000!