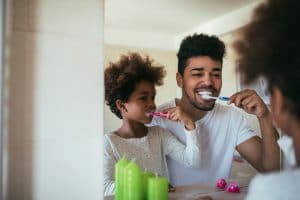 Should you make plans to improve the quality of your smile care at home? People can commit to looking for improvements after experiencing cavity troubles, in order to avoid restorative dental work in the future. This can be a smart decision, but you should not feel like you have nothing to worry about just because you have avoided cavities in your last few visits with your El Paso, TX dentist. You may not realize how wear and tear on your enamel, small diet changes, and other factors have affected your oral health. Identifying areas where you can do a better job keeping your teeth healthy can help you continue to stay protected against tooth decay and gum disease. Of course, even after stepping up your oral care routine, you should keep up with regular dental exams.
Start Looking For Ways To Improve Your Brushing And Flossing Routine
How long has it been since you asked yourself if your brushing and flossing routine was truly effective? People can maintain a misplaced sense of confidence about their current at-home routine, even as they make mistakes that increase the chances for tartar formation, and troubles with tooth decay. Be mindful of what you are doing while you brush – look in the mirror, and make sure you are reaching every area of your teeth. Doing this twice a day, and flossing effectively each day, will give you a great defense against smile problems.
Are You Really Doing A Good Job Maintaining A Smile-Friendly Diet?
Sometimes, a person's habits between brushing and flossing sections has more effect on their smile care than they anticipate. One thing you can do to make improvements is to start replacing soft drinks with water during your meals. Water helps you stay hydrated, and it can help you wash away food particles while you eat. This is a choice that also cuts back on your sugar intake, so that you can give your enamel more support. Of course, while your beverage choices matter, you should also be careful about your meal and snack choices. You can be surprised by how much sugar you really consume in a typical day if you are not minding your choices.
Your Dentist's Regular Preventive Care Can Help You Avoid Tooth Decay
Regular dental exams include helpful teeth cleanings that can remove tartar, clean up hard-to-reach spaces, and give feedback about the quality of your current oral care routine. Thanks to your semiannual cleaning, you can be better protected against issues that can lead to cavities. If something is wrong with your smile at your next visit, your dentist can identify it and let you know before it has a chance to worsen. This can mean you ultimately need a dental filling for that forming cavity, and not a root canal procedure and crown.
Sunny Smiles In El Paso Is Ready To Help You In Your Cavity Prevention Efforts
Sunny Smiles is ready to help you take on problems with your smile when they occur, and we can help you prevent these issues as well! To learn more, you can reach our East El Paso location on N. Zaragoza Road by calling 915-849-9000!