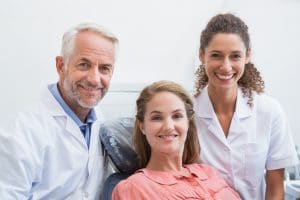 Making regular trips to see your El Paso, TX dentist for routine care can help you stay on top of your smile needs. The visits are important because they inform you about the current state of your oral health, and also provide a professional cleaning that better protect you against troubles that might happen in the future. On top of helping you fight cavities, checkups are important for keeping you protected against periodontal problems. Is your next routine visit already scheduled? While daily treatment certainly matters to your long-term smile health, combining at-home and professional oral health care can be key in your overall effort to prevent dental problems!
How Cleanings And Evaluations Fit Into Your Overall Smile Care Regimen
While you certainly need to take care of your teeth and gums on a daily basis, it should be noted that smart treatment at home does not replicate the care provided in the dentist's chair. One reason is that while your brushing and flossing will help you remove plaque, and keep tartar from forming, it is not an effective way to remove tartar deposits that have already formed. A professional cleaning can remove tartar, so it no longer puts you at risk for cavities or gum disease. Cleaning treatments also update you about the overall quality of your efforts to maintain a healthy smile, as you can be warned about areas where you are doing a less effective job brushing and flossing. Every evaluation also updates you about your overall smile health, and lead to restorative dental treatment if something needs to be addressed.
Keeping Your Gums Safe Against Infection
If bacteria gather at your gum line, there is a real risk that you can suffer a periodontal infection. You can fight that accumulation on a daily basis when you brush and floss – to make sure your gums are protected, pay attention to your actions, and see that you are cleaning at the base of your teeth. At a routine exam, your dentist looks for any concerning signs of an infection. If a periodontal problem is spotted, a special scaling and root planing procedure can take care of bacteria under your gum line.
Understanding The Threat A Cavity Poses To Your Oral Health
You may not have symptoms you associate with a cavity, even after decay becomes an issue. While you can be less than thrilled to discover that you need a dental filling, this scenario limits how much harm your tooth actually experiences. If you are not making regular trips to see your dentist, your tooth can become infected, and you can arrive at your dentist's office in search of relief from the painful symptoms. At this point, a root canal would need to occur to return your tooth to good health.
Sunny Smiles In El Paso, TX Can Help You Maintain Healthy Teeth And Gums
Sunny Smiles in El Paso, TX is prepared to help patients keep their teeth in great shape! If you have a question about your oral health, or if you want to set up your next dental appointment, you can call our East El Paso location on N. Zaragoza Road at 915-849-9000!