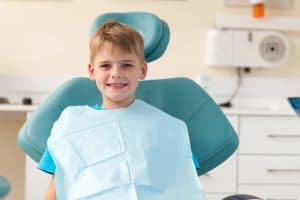 While cavities are a problem for patients at any age, it can be particularly worrying to learn that decay is affecting your child's smile. You can take important steps to prevent problems from occurring by helping them practice smart oral health habits at home, limiting their sugar intake, and scheduling regular pediatric dental visits for them. Unfortunately, even with dedicated smile care, some children will wind up experiencing at least one cavity, potentially at an early age. Your El Paso, TX dentist's office is prepared to take on restorative dental work for young patients. We can make sure decay is fully treated, while still minimizing the potential effect on a child's tooth structure.
Addressing Cavities That Form On Primary (Baby) Teeth
Because primary teeth – also known as baby teeth – are replaced on their own, it can seem as though a cavity is less of a threat. What you should be aware of is that tooth decay that affects a primary tooth can be a source of discomfort, and it can create potential issues for the secondary (adult) tooth yet to arrive. With regular dental exams for your child, it is possible for your dentist to recognize the need for treatment even while a cavity is newly forming. A dental filling can be carefully placed to protect the tooth, while still preserving healthy tooth structure.
Providing Better Care To Help Kids Prevent Tooth Decay
By introducing your child to the importance of good dental health at an early age, you can better equip them to manage their oral health later in life. At home, make sure kids are doing a good job of brushing and flossing. When they first start to do these tasks on their own, without your direct assistance, check in to confirm they are doing an effective job. You can also provide support by keeping their sugar intake limited. You are not the only one who can help kids understand the importance of smart care – during their checkups, kids can receive helpful instructions and guided lessons from their dentist.
Making Kids Feel More Comfortable At The Dentist's Office
While pediatric dental visits can mirror regular dental exams for adults in many ways, there are a few differences you should be aware of. One difference is that your dentist will spend more time with kids to help instruct them on smart oral health habits, as they are still learning how to protect their teeth. Another difference is that extra consideration is given to making kids feel at ease in the dentist's chair. Of course, everyone can count on a warm welcome, and treatment in a friendly environment. With that said, special efforts are taken to make sure kids, particularly on their initial visits, feel safe and comfortable. These early positive experiences can make them more at ease with a new environment, and make them more likely to continue seeking dental care when they are older!
Sunny Smiles In El Paso Can Provide Great Treatment For A Child's Cavity
Sunny Smiles in El Paso, TX is proud to provide a welcoming atmosphere for patients of all ages! If you need to set up an appointment for yourself, or your kids, you can contact our East El Paso location by calling 915-849-9000!