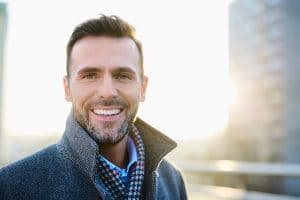 Your El Paso, TX dentist can take care of problems with tooth decay discreetly, thanks to modern dental fillings. While older dental fillings would be made with a metal material, the restorations available at our practice are made with a more discreet composite resin material. This substance manages to blend in easily with your enamel, and adhere to it directly for a superior level of support. It should be noted that not every cavity can be treated with a filling. Fortunately, you can count on your dentist to offer an attractive, dependable solution to your troubles even if your cavity is too serious for a filling to provide suitable protection.
Your Modern Filling Can Blend In With Your Surrounding Enamel
Modern dental fillings are made with a material that can closely resemble your tooth structure. In fact, it can be tinted to match your enamel, to make sure that its presence is not detectable! This can give you more confidence in your appearance after treatment. Of course, you should still do everything you can to avoid decay in the first place – your filling may be modern and durable, but your cavity still causes the permanent loss of your tooth structure.
Receiving A Dental Filling
Dental fillings are used for smaller cavities – if too much of your tooth structure is damaged, a dental crown can be required to deliver adequate support. Your filling limits the amount of work that has to be done to your tooth. After removing the decayed material on your enamel, your dentist carefully fills in that space with the composite resin material. If you need a dental crown, work has to be done to reduce the size of your tooth to make room for your restoration.
Your Dentist Is Committed To Making Sure Your Tooth Is Fully Restored After A Cavity
When you come in to see your dentist for restorative work, the priority will be making sure your tooth is totally problem-free. If you keep up with regular dental exams, you are more likely to have a cavity dealt with in its early stages, when only your enamel is affected by decay. If a cavity has enough time to develop, it can attack your pulp, and lead to a painful infection. To stop that infection from spreading further, a root canal procedure will have to be performed before your tooth is restored.
Sunny Smiles In El Paso Can Provide Patients With Modern Dental Fillings
Sunny Smiles in El Paso, TX is ready to help you take care of a problem with your smile! If you need work done to address a cavity, you can look forward to receiving a discreet, durable dental filling. In addition to placing fillings, our practice can provide work on more severe cavities that demand a more involved treatment. You can reach our Northeast El Paso location on Dyer Street by calling 915-759-7000!