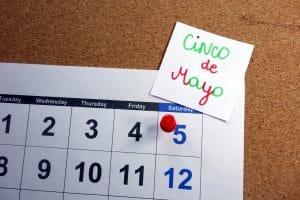 From Saturday, May 4 through Sunday, May 5, you and your family can enjoy a wonderful Cinco De Mayo celebration here in El Paso! The Cinco De Mayo International Fest will take place at the Consulate General Of Mexico in El Paso. During this two-day experience, there will be live music, with an emphasis on traditional works, as well as an assortment of foods, crafts, and more for you to check out. This is a great opportunity to enjoy family fun for the holiday, and it can be a chance to learn more about Mexico's culture. Events like these are great learning opportunities. You might not realize it, but regular dental exams can be learning opportunities, too! During your next checkup with your El Paso, TX dentist, you can find out some smart tips for better smile care at home, and improve your defense against cavities.
When:
This special event is taking place over the course of two days. On Saturday, May 4, the event will last from 11 am until 10 pm. On Sunday, May 5, the festivities will run from 12 pm until 8 pm.
Where:
These events are being held at the Consulate General Of Mexico In El Paso.
Cost:
These events offer FREE admission!
Activities Include:
During these two days of celebration, you can learn more about Mexico and its traditions, sample great foods, and check out special crafts and live music!
For More Information:
For more information about this event, click here.
Schedule Your Next Dental Checkup At Sunny Smiles In El Paso!
At Sunny Smiles in Northeast El Paso, you and your family can look forward to dedicated smile care during each visit. Our practice is ready to help you defend your teeth and gums against oral bacteria, and preserve your lovely smile! For more information, schedule an appointment at our Northeast El Paso location on Dyer Street by calling 915-759-7000!