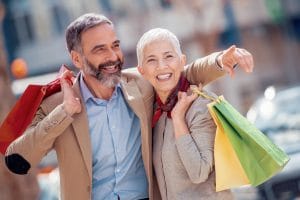 After even a short period with an incomplete smile, you can recognize just how frustrating tooth loss can be. You can find that biting and chewing food is more difficult, because your dental function is compromised. You can also notice how self-conscious you can be about people noticing an absence. Your El Paso, TX dentist's office is ready to help. You can learn how a dental implant makes a better dental prosthetic experience possible. You can be happy with the way you look, and impressed by how your restoration allows you to bite and chew.
What Difference Can A Dental Implant Make When It Comes To Restoring Your Smile?
What makes a dental implant different than other approaches to restoring an incomplete smile? It can help to understand what role the implant actually plays in improving your appearance and oral health. Your implant is not the restoration itself, but a special post that holds it in its proper position. This post acts like an artificial tooth root. In addition to making a restoration more secure, it can help support neighboring teeth, and even stop jawbone deterioration from occurring!
Receiving Your Dental Implant, And Your Prosthetic Tooth
Before your implant can be placed, a careful study of your smile must take place. Your dentist needs to determine several important things. One question is where, precisely, your implant should be placed. Your dentist also needs to make sure you are a good candidate for placement. If there is a concern about the health of your jawbone, or other issues that need to be addressed, more work may be needed before your smile can be restored.
Once you receive your implant, an appropriate healing period will pass before your prosthetic tooth is put in place. This restoration will be custom-made to be the right size, and right look, for your smile. It is also designed to be durable enough to help you bite and chew comfortably.
Replacing Lost Teeth Can Help You With More Than Just The Way You Look
Biting and chewing with an incomplete smile can quickly become frustrating. It can also put extra strain on your remaining teeth, and your jaw joints. By addressing tooth loss with a dental implant, you can reduce your risk for TMJ dysfunction, and for problems with your remaining teeth that can require restorative dental work!
Talk To Sunny Smiles In El Paso About Replacing Missing Teeth
Sunny Smiles in El Paso, TX can help you restore your smile by providing a modern, implant-supported restoration! By seeking our help to replace a missing tooth, or missing teeth, you can raise your confidence, and improve your oral health. For more information, you can reach our east El Paso location on N. Zaragoza Road by calling 915-849-9000.