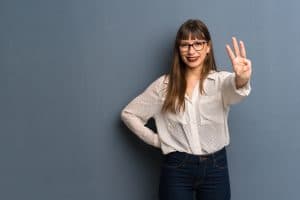 If you want to maintain good oral health, and preserve the look of your smile, you should take any symptoms of dental troubles seriously. Your El Paso, TX dentist's office is prepared to offer restorative dental treatment to individuals who show signs of troubles with tooth decay, or other issues that can impact your well-being. Unfortunately, people sometimes try to simply ignore signs that something is wrong, even as those signs interfere with their quality of life. If you have any problems that are making it difficult for you to practice your normal dental function, if you have chronic pain, or if you are trying to deal with an incomplete smile, schedule an appointment. Continuing to ignore these problems can lead to a situation becoming worse.
1. A Persistent Toothache
If your tooth continues to hurt over time, you could be feeling the effects of serious tooth decay. To make the pain stop, you may need to undergo a root canal procedure. This procedure protects a tooth when it is suffering an internal infection. If a problem within your tooth is ignored, it can lead to more troubles as bacteria spread through a tooth's root. If the problem progresses to this point, the only treatment left could be a tooth extraction.
2. Painful Or Limited Dental Function
Limitations to your dental function could be related to tooth pain. It can also concern the condition of your jaw – if you have TMJ dysfunction, you can struggle to bite and chew without difficulty or discomfort. Your problem can also create trouble due to teeth grinding, which can damage teeth to a potentially significant degree. Custom appliances are capable of stopping these problems, so you can put a stop to teeth grinding and dental discomfort.
3. A Missing Tooth (Or Multiple Missing Teeth)
People who have suffered tooth loss can experience problems with limited dental function, on top of discomfort around their appearance. What you should know is that if you have lost even one tooth, you can be at risk for losing more. This is because you have to put more biting and chewing pressures on remaining teeth, and because those teeth around an absence can have less support. Another problem is that when you suffer tooth loss, you can lose mass in your jawbone as time passes. With dental implants, you can have support for prosthetic teeth that will help you bite and chew comfortably. You can also stop jawbone deterioration from occurring, which can protect your appearance and oral health.
Talk To Sunny Smiles In El Paso If You Need To Do Something About A Dental Problem
Sunny Smiles in El Paso, TX can help you avoid dental problems that affect your appearance and quality of life. Our practice can work with you to manage different dental issues, so you can feel more confident in your well-being, and your smile. To schedule an appointment at our Northeast El Paso location at Dyer Street, please contact us at 915-759-9000.