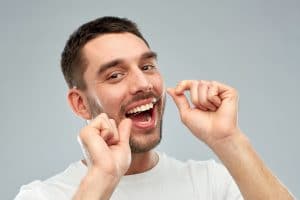 Tooth decay is highly common, but it's most often detected and treated in its mild to moderate stages. As such, tooth decay and the cavity it causes can typically be addressed with a custom, tooth-colored filling. Yet, many patients experience more severe decay that affects too much of their tooth structure for a minimally invasive filling to address. At our Northeast El Paso dental office, we can help you avoid the need for more extensive tooth decay treatment, such as root canal therapy, by helping you address tooth decay in its earliest stages.
Make preventive care a habit
The key to avoiding root canal therapy is to prevent tooth decay from forming, which requires a consistently good routine of dental hygiene at home and a schedule of preventive dental visits. For example, brushing and flossing plaque off of your teeth every day stops it from calcifying into tartar, which protects harmful oral bacteria from your toothpaste and water. These same oral bacteria can lead to tooth decay by eroding your tooth enamel and structure, causing more damage the longer tartar is left unattended. By visiting our office regularly for checkup and cleaning appointments, we can remove all traces of tartar from your teeth before it has time to lead to tooth decay.
Take a sensitive tooth seriously
Regular checkups and cleanings also include regular exams, during which we'll carefully checkup your teeth for signs of developing decay. However, you might notice its development before your regularly scheduled visit, especially in the form of increasing tooth sensitivity. As oral bacteria and the harmful substances they produce weaken your tooth enamel, your tooth structures will become more sensitive to things like food, beverages, and oral bacteria. The best way to relieve the sensitivity and protect your teeth is to schedule a dental visit as soon as possible, even if it isn't yet time for your regular checkup.
Get the cavity filled as soon as possible
If we detect a cavity in its mild to moderate stage, we can often treat it with a tooth-colored filling, which restores your tooth, alleviates the sensitivity, and stops the decay from progressing further. Even after having a tooth filling placed, however, your tooth may still be subject to further infection and the eventual need for root canal therapy. The most effective way to avoid this is to receive a custom filling made from biocompatible tooth-colored filling, which offers optimal protection as well as highly esthetic, lifelike results
Learn how to avoid root canal treatment
Even if you don't successfully prevent tooth decay, you can avoid needing root canal therapy if you seek treatment for it as soon as possible. For more information, schedule a consultation by calling Sunny Smiles in Northeast El Paso, TX, today at 915-581-6688! We also have offices in West and East El Paso, and we happily serve patients from Chaparral, Canutillo, Vinton, and all surrounding communities.