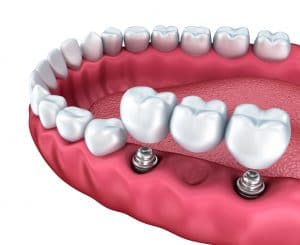 For patients who've lost teeth, dental implants are often the most beneficial option for replacing them. When it comes to rebuilding your smile, dental implants not only offer a lifelike way to make your smile whole again, but also a comprehensive way to reestablish the vital functions of your lost teeth roots. At our East El Paso, TX, dental office, we often recommend dental implants for patients who've lost teeth and wish for the most lifelike and beneficial way to replace them. If you're considering dental implants, then we're happy to help you decide if they're your best option, as well.
Why dental implants are popular
Dental implants are one of the most recent innovations in prosthetic dental treatment, but they're popular for much more than just the novelty of being new. Compared to traditional prosthetic options, such as dental bridges and dentures, dental implants are the only solution for addressing the loss of your teeth roots. They're also the only way to mimic the way your healthy, natural roots support your teeth, giving your prosthesis unmatched comfort and stability without the need for additional support (such as clasps or adhesives).
The many different benefits of implants
By mimicking the structures of your healthy, natural teeth – including their roots – dental implants offer a significant number of benefits compared to more traditional options. For example, the more lifelike support and stability means that your dental bridge or denture won't lose its grip and shift, which can become uncomfortable and painful over time. Dental implants also serve another important function for your long-term oral health – the reestablishment of stimulation in your jawbone. After losing teeth roots, the loss of stimulation can lead to jawbone erosion (loss of mass and density) unless you replace the roots with an appropriate number of dental implants.
How to know if they're right for you
While you may be an excellent candidate for dental implants, we'll perform a thorough examination to ensure that they're a good fit before recommending them. For instance, if we detect the presence of gum disease or excessive jawbone erosion, then you may require additional treatment before you can receive your dental implants. If you currently wear a traditional bridge or denture, then you may also be a good candidate for upgrading your prosthesis with dental implants.
Learn more about dental implants
If you need to replace one or more lost teeth, then you should consider dental implants for their many different immediate and long-term benefits. For more information, schedule a consultation by calling Sunny Smiles in East El Paso, TX, today at 915-849-9000! We also have offices in West and Northeast El Paso, and we happily serve patients from Chaparral, Canutillo, Vinton, and all surrounding communities.