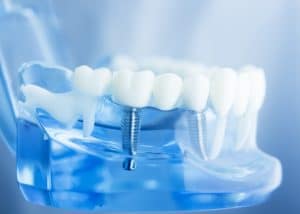 What makes dental implants different from other dental prostheses is also what makes them one of the most beneficial options for your smile. Unlike other options, dental implants don't just replace the visible portions of your teeth, but also the roots that rest within your jawbone. For many patients at our El Paso, TX, dental office, this also makes implants the best way to preserve their long-term oral health as well as restore their smiles' appearances. If you've lost one or more teeth, then we'll help you determine if replacing them with dental implants is a good idea.
If you want to preserve the rest of your teeth
A lot happens when you lose a tooth, and not all of it is obvious. For instance, the missing tooth will leave a visible gap in your smile that can diminish its cosmetic appearance. The gap can also affect how your bite functions, which might not be as immediately noticeable, and the missing tooth root can cause your jawbone to gradually diminish. The best way to avoid these effects is to replace the lost tooth with a dental implant.
If you want a prosthesis that doesn't shift
People who wear traditional bridges and dentures often experience discomfort when their prosthesis begins to shift along their dental ridge. This occurs for several reasons, one of which is the gradual weakening and erosion of your jawbone after losing teeth roots. Dental implants prevent this by reestablishing the tooth root, and by anchoring your prosthesis in place rather than relying on adhesives, abutment teeth, or clasps.
If you want to enjoy a more lifelike smile
With the support of lifelike dental implants, a dental bridge or denture will remain more comfortably and steadily in place when you bite, chew, and speak. In addition to improved comfort and stability, this also gives your replacement teeth a more lifelike and healthier appearance. Because dental implants mimic healthy teeth, they often offer the most realistic option for rebuilding your smile.
Find out if implants are a good idea for you
Dental implants are a good idea for most patients who've lost teeth, but we'll help you make sure they're the right choice for you before suggesting them. For more information, schedule a consultation by calling the Sunny Smiles dental office nearest you in El Paso, TX, today! We also have offices in Chaparral, Canutillo, and Vinton so we can easily serve patients throughout all surrounding communities.