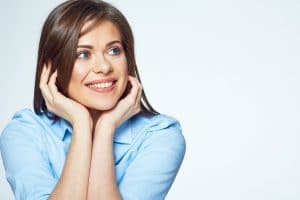 The thing about teeth stains is that you can't always successfully prevent them. Even when you take excellent care of your teeth by brushing them twice a day and flossing at least once, they can gradually lose their healthy shine from exposure to food, beverages, and more. At our East El Paso, TX, dental office, we can help effectively and conveniently erase your teeth stains and brighten your smile's appearance with the help of custom-designed teeth-whitening. During your consultation, we'll carefully examine your teeth to ensure that teeth-whitening is your best option, and answer questions you may have about the treatment.
How does it whiten your teeth?
Professional teeth-whitening is a cosmetic dental treatment that's designed to optimize results while minimizing the amount of treatment you receive. The procedure works by chemically breaking up the staining deposits on your teeth's surfaces and removing them, while being gentle enough to cause no harm to the enamel around your teeth.
How long does the treatment take?
Teeth-whitening treatment involves a custom-designed kit that includes a set of whitening trays that fit comfortably over your teeth. Using the trays, you can apply the professional-strength whitening gel evenly to your teeth for a couple of hours each day. Typically, treatment takes about 10 days to achieve optimal results, though you can keep the trays to touchup your smile again in the future.
Will you need to whiten your teeth again?
Because teeth stains can occur naturally, you may need to whiten your teeth again in the future. However, you can do so more conveniently by holding onto your custom trays and receiving more whitening gel from your dentist when necessary. By sticking to a routine schedule of checkups and cleanings, you can improve your chances of detecting when it's time to touchup your smile again, and doing so before your teeth stains become prominent.
What if your stains are more severe?
While teeth-whitening works for most common teeth stains, it only works for those that develop on the surfaces of your teeth. If the discoloration occurs beneath the semi-translucent enamel, then teeth-whitening may not be the most appropriate solution. Instead, we can recommend a more appropriate cosmetic treatment, such as tooth-colored bonding or one or more porcelain veneers.
Ask us if teeth-whitening is right for you
When it comes to brightening your smile, teeth-whitening may be your best option, but we'll help you make sure before recommending the treatment. For more information, schedule a consultation by calling Sunny Smiles in East El Paso, TX, today at 915-849-9000! We also have offices in West and Northeast El Paso, and we happily serve patients from Chaparral, Canutillo, Vinton, and all surrounding communities.