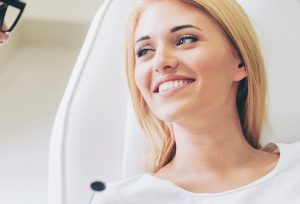 When it comes to rebuilding your smile after tooth loss, there are several different areas of concern, each of which being just as important as the others. For example, there's the esthetic concern of how your smile looks and the functional concern of how well your bite will function. There're also long-term concerns of what the loss of your teeth will mean for your oral health. At our El Paso, TX, dental office, we help many patients address all of these concerns at once with the help of dental implants.
How they make prosthetics more lifelike
Conventional replacement teeth are already designed to closely mimic the healthy and beautiful appearance of your natural teeth. Most are crafted from porcelain or zirconia, which not only mimic your teeth's unique color, but also the specific way in which your teeth reflect light. However, dental implants provide the one thing that conventional options lack – an option for replacing the roots that were attached to your lost teeth.
What dental implant posts do
Dental implants offer highly realistic results for rebuilding your smile by providing your replacement teeth with one or more prosthetic roots. The implant posts are created to mimic your healthy teeth roots and are implanted into the appropriate places in your jawbone. The purpose of the posts is to offer a lifelike support system for your replacement crown, bridge, or denture, as well as to restore the essential functions of your lost teeth roots.
The long-term effects on your smile
In addition to making your replacement look and feel more lifelike, dental implants also have several important long-term benefits. Most importantly, they provide stimulation within your jawbone every time you bite and chew, which promotes a healthy flow of nutrients to the area. Over time, this prevents the jawbone degradation (loss of mass and density) that occurs when you lose one or more teeth roots.
Learn if you can benefit from dental implants
Besides their significant benefits to your long-term oral health, dental implants also offer an unprecedented level of realism. To learn more, schedule a consultation by calling the Sunny Smiles dental office nearest you in El Paso, TX, today! We have offices in the East, Northeast, and Westside of El Paso, and happily welcome patients from all nearby communities, including Chaparral, Canutillo, Vinton, and Sunland Park, New Mexico.