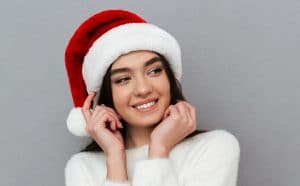 The best gifts are those that keep on giving, and as a dominant factor in your self-confidence, a healthy, beautiful smile is one of the greatest gifts you can give yourself. For some patients, that may mean boosting their smile's appearance with a cosmetic touchup, while for others, it may mean finally addressing that troublesome tooth. At our El Paso, TX, dental office, we offer a full-range of customizable dentistry services to give your smile the perfect gift for improving its confidence.
Want a more attractive smile?
It doesn't take a lot for your smile's appearance to be affected. For instance, even a slight change in the color and shade of your teeth could have a highly noticeable effect. A simple teeth-whitening treatment may be able to improve them, though if you have more extensive blemishes, then you may need a more involved solution. For instance, one or more custom-designed porcelain veneers can help you fix multiple issues at once, including chipped, cracked, misshapen, or slightly misaligned teeth.
Have a problem that needs to be fixed?
Besides your smiles appearance, issues like worn down or cracked teeth, tooth decay, and more can have a significant impact on your overall oral health. The discomfort and appearance of such issues can also affect your confidence, and if left unaddressed, the problems will only grow worse. With a customized restoration, such as a tooth filling or dental crown, you can address the problem to restore your good oral health and also retain or improve your smile's healthy, natural appearance.
Give yourself the gift of a better smile
Give yourself the gift of a healthy, beautiful smile by giving it the attention it deserves with highly customized cosmetic and restorative dental treatment. To learn more, schedule a consultation by calling the Sunny Smiles dental office nearest you in El Paso, TX, today! We have offices in the East, Northeast, and Westside of El Paso, and happily welcome patients from all nearby communities, including Chaparral, Canutillo, Vinton, and Sunland Park, New Mexico.