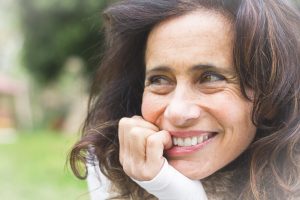 For years, dental prostheses have offered patients highly realistic results when rebuilding their smiles after losing one or more teeth. This is largely due to the materials (such as lifelike dental porcelain) and the highly precise digital images and measurements used to craft them. However, only dental implants extend their realism to include implanted anchors that mimic the supportive roots of your teeth and prevent issues such as uncomfortable shifting. Patients in El Paso, TX, who wish to avoid shifting replacement teeth can often do so with the help of one or more dental implant posts.
The problem with shifting prosthetics
Besides restoring the healthy and full appearance of your smile, the point of a custom dental prosthesis is also to restore your bite's function. When a bridge or denture shifts along your dental ridge, it can't perform as it's supposed to when you bite and chew. This means your bite's function diminishes, and the discomfort of the shifting can become increasingly more debilitating.
How do dental implants stop this?
Conventional bridges and dentures eventually shift for several reasons. Their supportive structures may become less effective over time, such as adhesives, hidden clasps, or abutment teeth. Also, the loss of your teeth roots can affect the nutrient supply to your jawbone, causing it to lose mass and density and change shape over time. Implants address both issues by providing a supportive anchor (or root) to hold your prosthesis steady and to stimulate your jawbone to prevent it from changing shape.
Other ways implants improve your prosthetic
In addition to stopping dental prostheses from losing their grip and shifting, dental implants also provide a wealth of significant benefits for your oral health. For example, because they're implanted into your jawbone, the posts eliminate the need to modify healthy tooth structure for support or to rely on hidden clasps on certain teeth. This equates to greater comfort and a reduced risk of experiencing oral health issues in the future.
Benefit from one or more dental implants
Preventing your replacement teeth from shifting by giving them prosthetic roots is just one of the many important benefits of dental implants. To learn more, schedule a consultation by calling the Sunny Smiles dental office nearest you in El Paso, TX, today! We have offices in the East, Northeast, and Westside of El Paso, and happily welcome patients from all nearby communities, including Chaparral, Canutillo, Vinton, and Sunland Park, New Mexico.