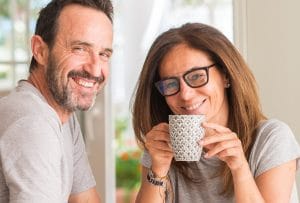 Preventing tooth loss is easier these days than it's ever been, but it still occurs often enough to be a significant problem. For patients  in El Paso, TX, we offer several different solutions for dealing with tooth loss, each one customized specifically for each individual patient's unique needs and preferences. Whether you've lost a single tooth, a couple of teeth, several or all of them, the best solution is to choose the right prosthesis as soon as possible.
Custom Dental Bridge
A dental bridge is designed to resemble its namesake. With a lifelike replacement tooth (pontic) supported by two anchoring crowns, a bridge is supported by the healthy teeth adjacent to the empty space, allowing the pontic to close the gap in your smile. If you've lost more than one tooth that are adjacent to each other, then a bridge may be designed with more than one pontic to replace them simultaneously.
Partial or Full Denture
Dentures are designed for more extensive cases of tooth loss, when several teeth are lost that aren't close to each other, or an entire row of teeth on the upper or lower dental ridge are missing. A partial denture fills in the spaces of your missing teeth while fitting around those that remain, while a full denture consists of an entire row of lifelike replacement teeth on a comfortable gum-colored base.
Dental Implant Restoration
No matter how many teeth you've lost, you may benefit most from supporting your bridge or denture on an appropriate number of dental implant posts. Designed to mimic your lost teeth roots and strategically placed to absorb a maximum amount of bite pressure, implant posts can anchor your prosthetic in place, creating a more lifelike, comfortable, and stable solution to dealing with tooth loss.
What's the Best Solution for Your Smile?
When dealing with tooth loss, choosing the best solution for replacing them is vital to your long-term oral health. To learn more, schedule an appointment by calling the Sunny Smiles dental office nearest you in El Paso, TX, today! We have offices in the East, Northeast, and Westside of El Paso, and happily welcome patients from all nearby communities, including Chaparral, Canutillo, Vinton, and Sunland Park, New Mexico.