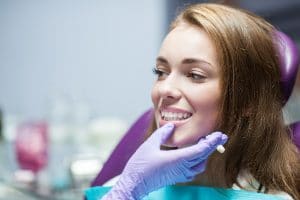 Aside from the technology used to design them and the materials used to make them, dental crowns haven't changed very much since they were first created centuries ago. That's because the way they're designed to cap and protect teeth remains a highly effective and efficient way to address multiple types of tooth problems. For patients in El Paso, TX, a custom-designed dental crown is often the best way to fix a damaged tooth, strengthen a weak one, or cosmetically improve a tooth that has become severely blemished.
Fixing a tooth fracture
Dental crowns' original purpose was to fix teeth that have become damaged, and that remains one of their primary functions today. A crown is designed to completely cover the top portion of your tooth (also called a crown) in order to stop a fracture from growing worse while restoring the tooth's ability to function properly. With the help of a crown, you can preserve your natural tooth structure even after it has been severely damaged.
Reinforcing a treated tooth
Besides cracks and fractures, teeth can become compromised when they have to be treated for issues like severe tooth decay. For example, treating the decay could require root canal treatment, or the removal of much of the tooth's inner structures. This could leave the tooth structurally weak and susceptible to more damage unless your dentist caps the tooth to strengthen and protect it.
Correcting a serious tooth blemish
In many cases, dental crowns are crafted from highly lifelike porcelain, which closely mimics the color, shape, texture, and luminescence of your healthy, natural tooth structure. Because of their close resemblance to healthy teeth, porcelain crowns can often be recommended to improve the appearance of a tooth that has become severely stained, chipped, or otherwise blemished.
Learn if a custom crown is your best option
With their highly lifelike and durable construction, modern dental crowns are often the best option for addressing a wide variety of dental health concerns. For more information, schedule an appointment by calling the Sunny Smiles dental office nearest you in El Paso, TX, today! We have offices in the East, Northeast, and Westside of El Paso, and happily welcome patients from all nearby communities, including Chaparral, Canutillo, Vinton, and Sunland Park, New Mexico.