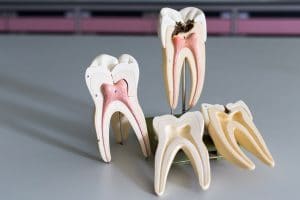 Dealing with tooth infection (also known as tooth decay) is usually straight-forward. Your dentist removes the bacteria infecting your tooth and any tooth structure that is already decayed, then restores the tooth by replacing its lost structure. In minor cases, this can be accomplished with a tooth filling procedure. Yet, in more extensive cases, it often requires root canal treatment. For patients in El Paso, TX, root canal treatment can be the best way to remove the threat of an even more severe infection and the need for more extensive treatment.
Your tooth infection is spreading
One of the most important reasons to seek treatment as soon as possible is that tooth infection continues to spread the longer it's left untreated. By the time you need root canal treatment, it has already spread to the internal chamber (pulp) of your tooth, which is connected to the root that extends into your jawbone. The chamber inside of this root carries nutrients from your jawbone to your tooth's pulp, and if it gets infected, the potential danger to your oral health can be significant.
The procedure relieves your tooth pain
When the inner pulp chamber of your tooth becomes infected, the nerves and tissues in your tooth can become severely sensitive. The intense pain can only be alleviated by removing the infection and restoring the tooth, which is the point of your root canal treatment. Until you seek treatment, the pain will persist and continue to grow worse.
You might lose the tooth if you hesitate
Besides increasingly more severe pain, a progressive tooth infection also threatens the health and integrity of more than just your tooth. For instance, a completely decayed tooth may be lost or require extraction. If the decay isn't addressed, then the jawbone and tissues surrounding the infected tooth can also be affected. Seeking root canal treatment as soon as possible can help you avoid these consequences.
Save Your Tooth with Root Canal Treatment
Root canal treatment may be the last chance you have to save your tooth from severe tooth infection, which is why you should take it seriously if your dentist recommends it. To learn more, schedule an appointment by calling the Sunny Smiles dental office nearest you in El Paso, TX, today! We have offices in the East, Northeast, and Westside of El Paso, and happily welcome patients from all nearby communities, including Chaparral, Canutillo, Vinton, and Sunland Park, New Mexico.