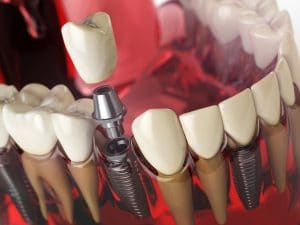 Tooth loss comes with a variety of worries, and facing them means finding the best way to replace the tooth or teeth that you've lost. For many patients in El Pas, TX, dental implants are that solution thanks to the many benefits that they provide both immediately and in the long run. Dental implants are small posts that are meant to mimic the form and function of healthy, natural teeth roots. This means once they're inserted into your jawbone, your jaw accepts them as genuine and heals to their titanium surfaces.
They can make existing prostheses better
Dental implant posts are not meant to replace traditional prostheses, such as bridges and dentures. On the contrary, implant posts boost their ability to rebuild your smile by providing a more lifelike support system. After your jawbone has healed from implant placement, your dentist secures your dental crown, bridge, or denture to them, creating a restoration that accurately reproduces the root-and-crown structures of your lost teeth. Instead of adhesives or hidden clasps, the implant posts securely anchor your prosthesis in place, making it more secure and beneficial for your smile.
They can help most tooth loss patients
While dental implants are among the most innovative solutions for rebuilding smiles, they're also easily available and often ideal for most patients who've lost teeth. Even if you've worn a traditional bridge or denture for years already, you may be a good candidate for improving your existing prosthesis with one or a series of dental implant posts. After a thorough examination, your dentist can help you determine if your teeth, jawbone, and periodontal health are well enough for you to successfully receive and retain the implant posts.
Learn More About the Importance of Dental Implants
Dental implants help do more for your smile than traditional prosthetics thanks to their innovative way of addressing the loss of your teeth roots. To learn more, schedule an appointment by calling the Sunny Smiles dental office nearest you in El Paso, TX, today! We have offices in the East, Northeast, and Westside of El Paso, and happily welcome patients from all nearby communities, including Chaparral, Canutillo, Vinton, and Sunland Park, New Mexico.